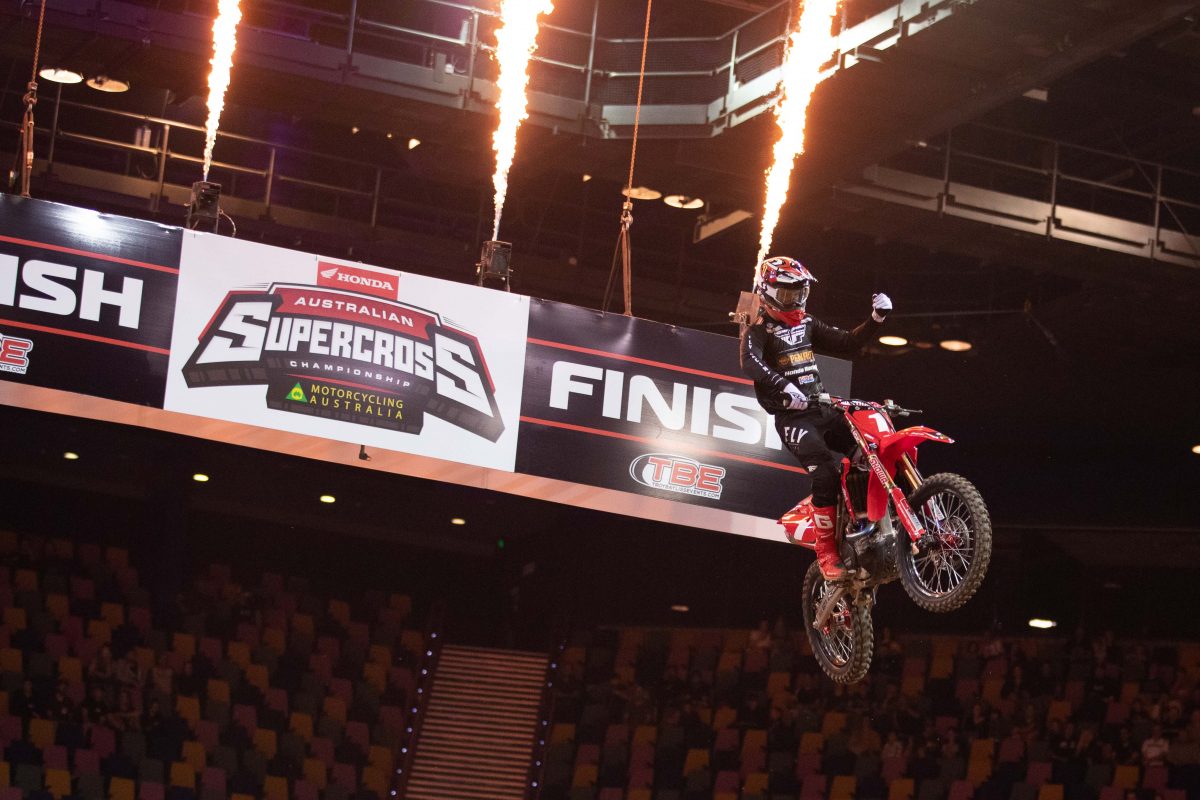 Australian Supercross Champion confident heading into Round two after dominant display
With round one of the Australian Supercross Championships in the books, riders and teams now experience a quick turnaround in order to get their infrastructure prepared for this weekend, where Adelaide's Gillman Speedway will play host to round two of the series.
Team transporters will be locked and loaded as early as today as they hit the highways and carry their respective cargos interstate, with Penrite Honda and Serco Yamaha both carrying motorcycles that'll sport red plates for round two.
Fresh off a dominant display in Brisbane, which saw him notch both main event wins and the overall, Justin Brayton explains that his preparation this year is lightyears ahead of 2018, with his entire family battling illness as soon as he landed in Australia just one year ago.
"People knew I was sick last year, but I never really let out just how sick I was. It was tough; my wife had pneumonia so I was trying to look after her, my kids were sick and I was trying to look after them, and then lastly I was really sick too all throughout the championship. In fact, the night before the last round I didn't sleep; my temperatures were through the roof," comments Brayton.
"This year we're much better, and I was stoked to win round one. We sort of tell ourselves 'oh, I just want to leave round one with good points', but that's really just a safety net – I wanted to go there and set the tone early with a win," finished Brayton.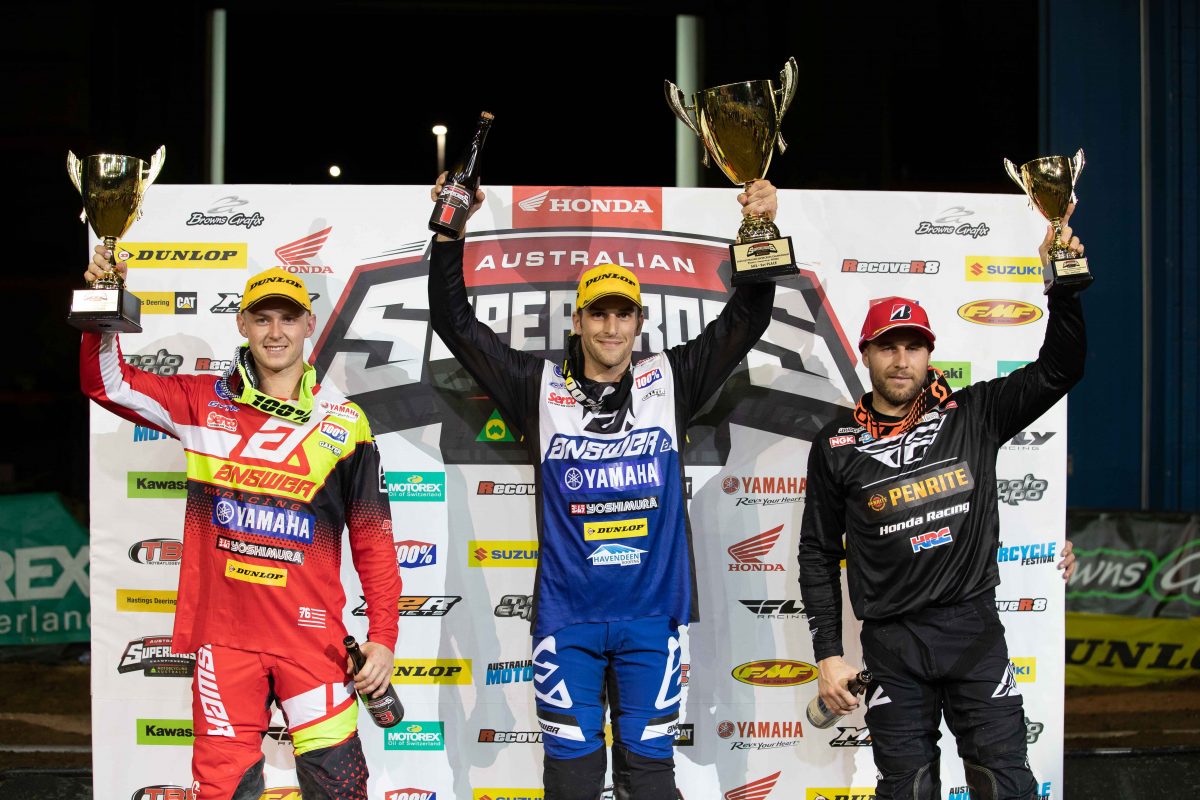 (Photo Credit: Troy Bayliss Events)
The circuit in Gillman will feature over 7,000 tons of dirt, which will make for a full-size, World Championship calibre supercross track. After piloting his Serco Yamaha to the top step in Brisbane, American Jacob Hayes is ready for a larger track this weekend, citing that he's more comfortable on a full-size circuit.
"I'm excited for this round in Adelaide and will look to keep the momentum rolling. I prefer the longer tracks which are more technical, as fitness is a factor as well as there being more opportunity to separate the riders, and I believe that I have the skills to rise to the occasion of harder tracks that are also more physical," commented Hayes.
There's a whole host of talent who are ready to take down each of the championship leaders, with CDR Yamaha Monster Energy duo Luke Clout and Daniel Reardon at the top of the SX1 list. Not to be forgotten is the #24 Penrite Honda of Brett Metcalfe, who will look to use his hometown advantage to take out the Adelaide stop for the second consecutive year.
In the SX2 ranks, American's Chris Blose, Mitchell Oldenburg, Bradley Taft and Josh Osby will be prepared to do battle, however, the Australian contingent led by defending champ Jay Wilson will be intent on knocking the imports off the top step.
The South Australian Round is expected to sell out well in advance with only 500 additional tickets on offer from 2018.
All the action from the pit party will kick off at 4:00 pm where fans can meet all the riders with Qualifying starting at 5:30 pm local time.
For 2019, Adelaide's Gillman Speedway will act as round two of the five-round series, with tickets available from $35 at www.trybooking.com.
Round 2 of the Australian Supercross Championship is proudly supported by Fly Racing Presented by Kawasaki, Dunlop, MotorEx, 100%, M2R, Yamaha, FMF, Suzuki, RecoveR8, Honda, Load Ex
The Australian Supercross Championship is supported and sanctioned by Motorcycling Australia (MA).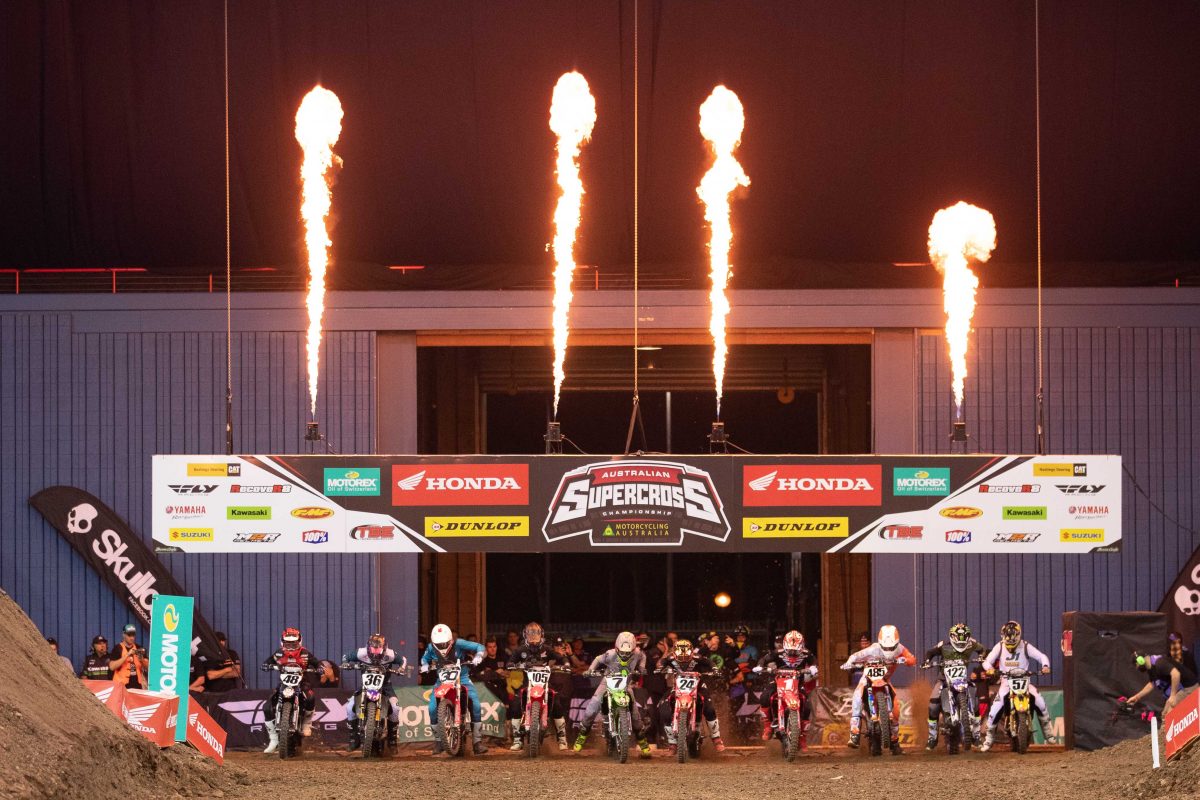 (Photo Credit: Aaryn Minerds)
2019 Australian Supercross Standings
SX1 
| | | |
| --- | --- | --- |
| Pos | Name | Total |
| 1 | Justin BRAYTON | 113 |
| 2 | Luke CLOUT | 103 |
| 3 | Daniel REARDON | 95 |
| 4 | Brett METCALFE | 90 |
| 5 | Dylan LONG | 67 |
| 6 | Richie EVANS | 60 |
| 7 | Joel WIGHTMAN | 54 |
| 8 | Josh HILL | 53 |
| 9 | Todd WATERS | 51 |
| 10 | Jason ANDERSON | 47 |
| 11 | Jayden RYKERS | 42 |
| 12 | Lawson BOPPING | 41 |
| 13 | Jackson RICHARDSON | 36 |
| 14 | Cody DYCE | 33 |
| 15 | Dylan WOOD | 29 |
| 16 | Jesse DOBSON | 28 |
| 17 | Jono KRUSIC | 25 |
| 18 | Henry MILLER | 23 |
| 19 | Gradie FEATHERSTONE | 22 |
| 20 | Justin CARAFA | 21 |
| 21 | Caleb WARD | 17 |
| 22 | Chad REED | 16 |
| 23 | Jesse MADDEN | 15 |
| 24 | Joey SAVATGY | 10 |
| 25 | Lochie LATIMER | 10 |
| 26 | Cody COOPER | 6 |
| 27 | Blake COBBIN | 4 |
| 28 | Jamie HARVEY | 3 |
| 29 | Joel CIGLlANO | 3 |
SX2
| | | |
| --- | --- | --- |
| Pos | Name | Total |
| 1 | Chris BLOSE | 105 |
| 2 | Joshua OSBY | 101 |
| 3 | Mitchell OLDENBURG | 99 |
| 4 | Jay WILSON | 87 |
| 5 | Aaron TANTI | 84 |
| 6 | Connor TIERNEY | 58 |
| 7 | Regan DUFFY | 57 |
| 8 | Bradley TAFT | 57 |
| 9 | Dylan WILLS | 50 |
| 10 | Rhys BUDD | 40 |
| 11 | Geran STAPLETON | 36 |
| 12 | Ricky LATIMER | 36 |
| 13 | Tomas RAVENHORST | 32 |
| 14 | Morgan FOGARTY | 29 |
| 15 | Kyle WEBSTER | 28 |
| 16 | Jayce COSFORD | 26 |
| 17 | Jacob HAYES | 25 |
| 18 | Darian SANAYEI | 23 |
| 19 | Kaleb BARHAM | 21 |
| 20 | Jett LAWRENCE | 18 |
| 21 | Hugh MCKAY | 18 |
| 22 | Wilson TODD | 14 |
| 23 | Jaxon HADLOW | 13 |
| 24 | Jack KUKAS | 9 |
| 25 | Chandler BURNS | 5 |
| 26 | Madison LATTA | 4 |
| 27 | Alex LARWOOD | 3 |
| 28 | McKenizie O'BREE | 2 |
| 29 | Caledb GOULLET | 1 |