Team Honda HRC Australia double up in Melbourne for round 01 of the 2022 FOX Australian Supercross Championship
Team Honda HRC Australia duo of Justin Brayton and Max Anstie have doubled up in Melbourne for Round 01 of the FOX Australian Supercross Championship, taking respective victories in the SX1 and SX2 Class.
Provided with a technical track inside Marvel Stadium, the supercross superstars skills were put on full display as the dirt broke down, with multiple lines present and developing over the course of the night.
Four-time defending champion Justin Brayton proved too strong in the SX1 Class, although was presented with a healthy challenge from CDR Monster Energy Yamaha ace, Aaron Tanti.
"Tonight was good. Aaron (Tanti) was there the whole time – in the heat and in the main, and I'm actually a big fan of his. He's put in the work and has a bright future ahead of him. I'm looking forward to this year's championship battle," commented Brayton.
In the SX2 Class, it was Englishman Max Anstie who led a wire-to-wire victory, securing his first ever Australian Supercross Championship race win.
"I've loved my time here so far. Melbourne has been a great city and the fans have been awesome, it's just been a blast. My race was good – fairly lonely – although with the track breaking down, I needed to really lock in and make sure I kept focusing on the track," commented Anstie.
The 2022 FOX Australian Supercross Championship now rolls into the Adelaide Showgrounds on October 29, where the title combatants will recommence and the battle for the Championships will continue.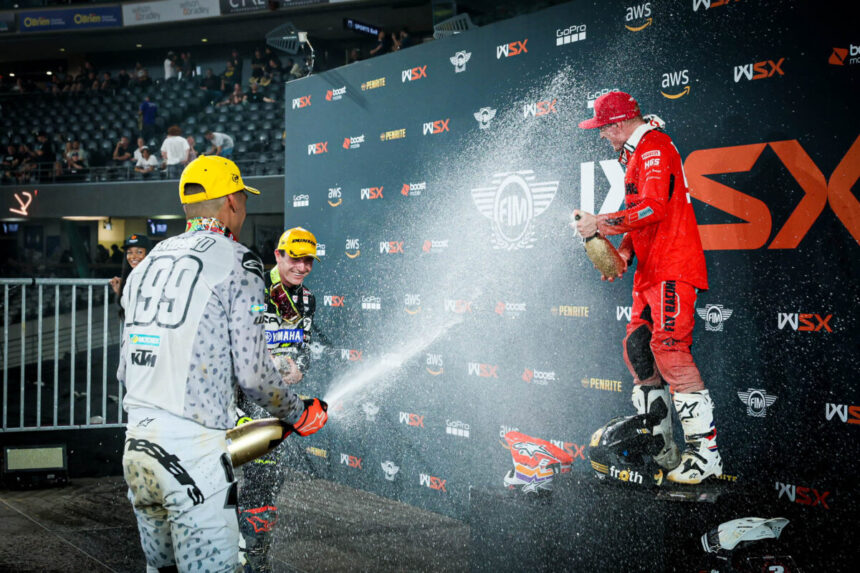 SX1 Results
1 – Justin Brayton
2- Aaron Tanti
3 – Dean Wilson
4 – Hayden Mellross
5 – Matt Moss
6 – Dylan Wills
7 – Kyle Webster
8 – Jackson Richardson
9 – Dylan Wood
10 – Joel Cogliano
SX2 Results
1 – Max Anstie
2 – Cole Thompson
3 – Nathan Crawford
4 – Kaleb Barham
5 – Jai Contantinou
6 – Rhys Budd
7 – Noah Ferguson
8 – Jy Roberts
9 – Geran Stapleton
10 – Tomas Ravenhorst