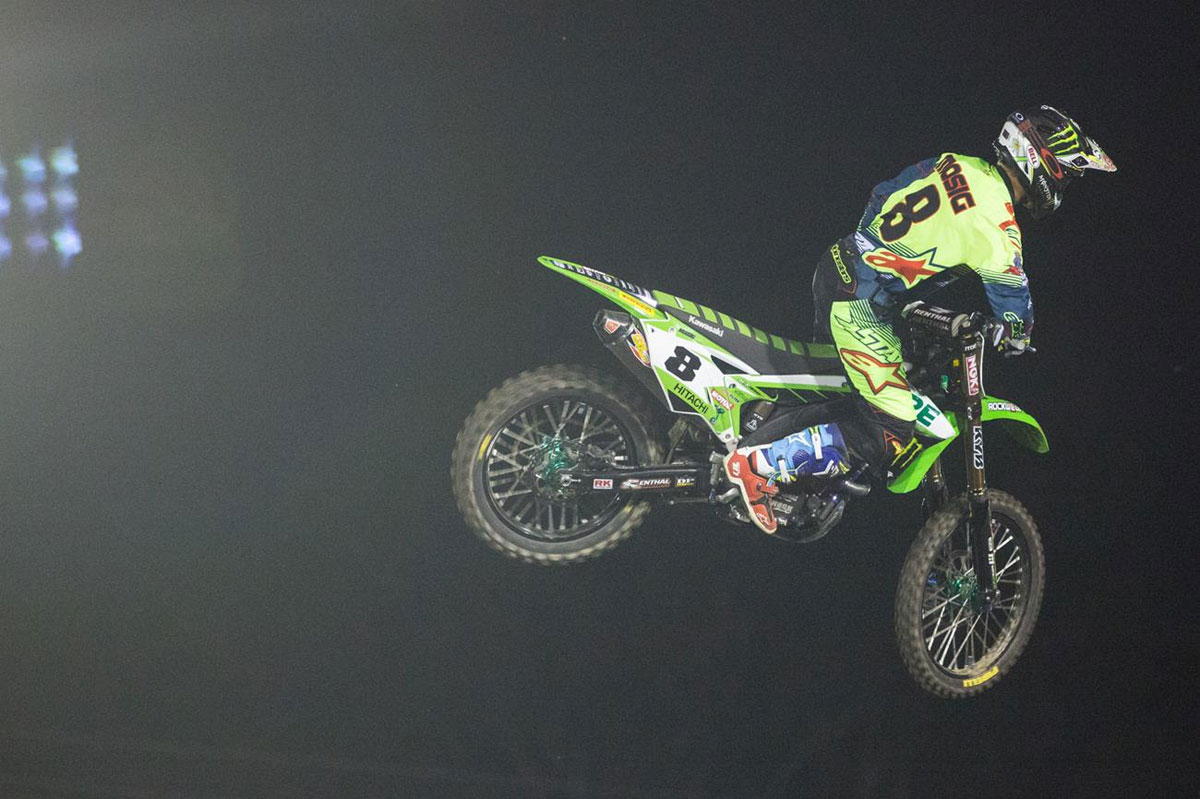 Hahn And Mosig Set Sights On Toowoomba's
Hahn and Mosig set sights on Toowoomba's second Supercross round
Kawasaki Motors Australia press release:
The National Pump Monster Energy Kawasaki Racing Team is ready to roll ahead of Toowoomba's second round of the 2016 Australian Supercross Championship, following the one-month break in the early stages of the series.
American import Wil Hahn and regular Australian front-runner Kade Mosig finished fifth and sixth respectively at Jimboomba's season-opener, a result team manager Troy Carroll looks to build upon this Friday night, 14 October.
"We've put in a really solid four weeks between the races," commented Carroll. "We knew we were a little under-prepared coming in to the first round and we now know we're a lot better off ahead of the second round.
"We can't wait to get to Toowoomba, the track looks awesome, it's a big long track a lot more like a US-style event. We're looking forward to it and hopefully both Kade and Wil can get up on the podium."
With added time aboard the Kawasaki KX450F during the schedule break, Hahn enters the second event of the season with added confidence and comfort. Plus, with a larger and more technical circuit on offer for round two, Hahn believes this will benefit him thanks to his extensive American supercross experience.
"We've been working on the bike a bit and obviously myself too," Hahn said. "I feel like I needed to get some more comfort, but then again, it was also nice to get settled and get used to everything here in Australia. I've put in a lot of time training on and off the bike during these weeks off and I feel good.
"I think the Toowoomba track is more US style, more spread out with taller and steeper jumps. I think it will be more technical than the first round, which is good for me, I think that suits my background coming from the US as it's a bit more technical than round one was."
Mosig, the 2015 SX1 championship runner-up, admits a sixth-place finish isn't where he expects to be and like his teammate, he will also enter Toowoomba with an improved bike setting for supercross and refined technique on the track.
"It's been a good few weeks, we've done some testing, tried a lot of things and made some small improvements with the bike," Mosig said. "I'm ready to go racing and I'm keen to get after it. Sixth at the first round was okay, but it wasn't where I wanted to be – I had to improve on a few things around the track and I feel like I have, so I'm ready to go."
To stay up-to-date with the National Pump Monster Energy Kawasaki Racing Team, 'Like' National Pump Monster Energy Kawasaki Racing Team on Facebook or 'Follow' @npe_monsterenergy_kawasaki on Instagram and @KawasakiAU on Twitter. Visit www.kawasaki.com.au for further information on Kawasaki Motors Australia.