Americans Clean Sweep Round 2 in Port Adelaide
After competing on the tightest circuit on the Australian Supercross calendar just one week ago in Brisbane, riders were greeted with a full spec, world championship caliber circuit in Adelaide, and it was a pair of American's on Penrite Honda's who lit the candles in each class.
The duo of Justin Brayton and Mitchell Oldenburg topped the qualifying timesheets to open the days proceedings, and would go on to win each of their respective heats, too. Superpole belonged to Dan Reardon in SX1 and Jacob Hayes in SX2 respectively, however when it came to the night show, Brayton and Oldenburg were just too good.
"I'm stoked to go back to back," commented Brayton.
"Especially because now we've raced two really different tracks, and I've been strong on each along with my Penrite Honda machine. Also, to see Oldenburg grab the win in SX2 is just great for the team, and I think it speaks volumes for our entire Penrite Honda outfit," finished Brayton.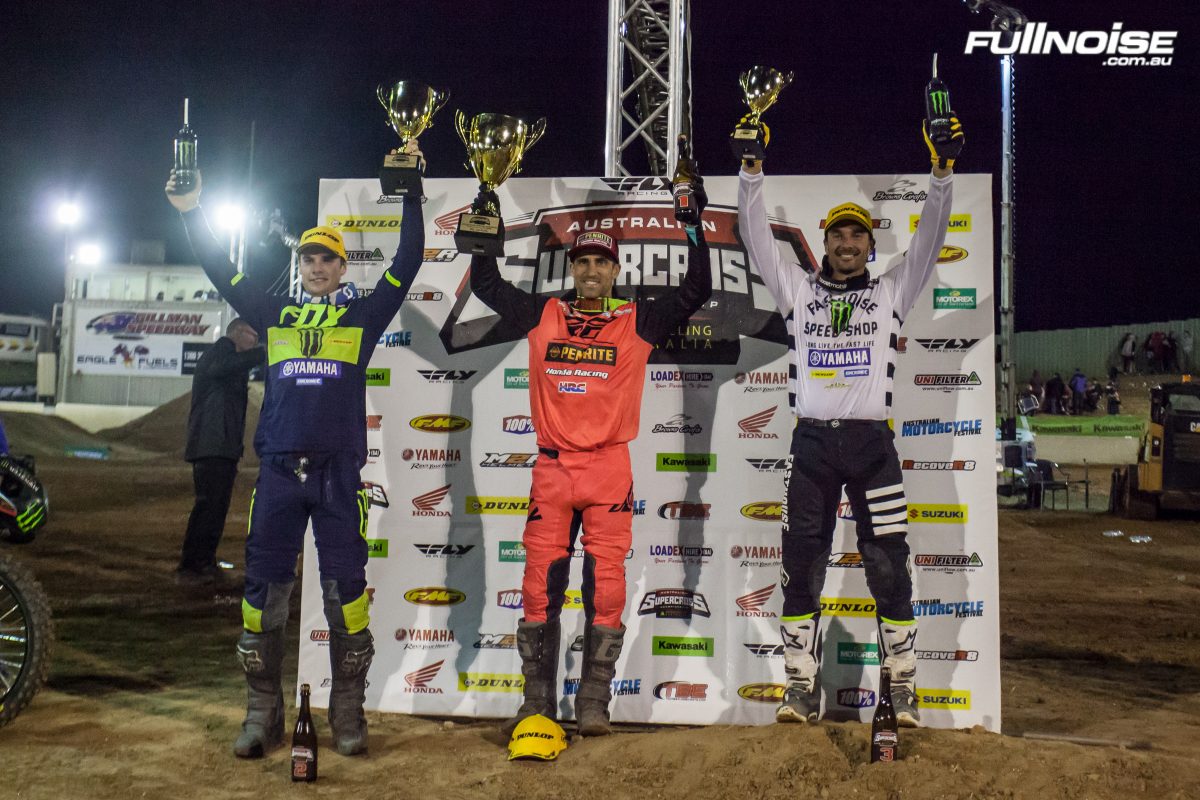 Justin Brayton makes it back to back wins obtaining top spot in Port Adelaide (Credit: Aaryn Minerds)
In the SX2, red plate holder Jacob Hayes was in the mix early, however ended up having a sizeable crash in one of the rhythm lanes early and subsequently DNF'd. As a result, Oldenburg breezed to a seven second victory and moved his way into third in the standings – four points behind new leader Aaron Tanti.
"Tonight was awesome. We struggled a bit at round one; those indoor tracks are just so difficult and easy to make a mistake on, and that's what we did. So to rebound here feels great, we're four points off the championship, so I'm excited for the remainder of the championship," commented Oldenburg.
Rounding out the podium in SX2 was Raceline KTM Thors Josh Osby, and new red plate holder Aaron Tanti aboard his Serco Yamaha. In SX1, it was once again the CDR Yamaha Monster Energy teammates of Luke Clout and Dan Reardon taking up the runner up places, with hometown hero Brett Metcalfe in fourth.

Oldenburg relishes return to a full-size track taking the Win – (Credit: Foremost Media)
The series now experiences a three week break, before the home stretch where riders will compete in Wollongong (NSW) for round three, Auckland (NZ) round four, and closing the championship out inside Melbourne (VIC) for round five.
Tickets to Round 3 of the Championship in Wollongong on November 9 are selling fast via Ticketmaster and from as little as $30. Additionally, special VIP packages are available that include Supercross gift packs, special access to watch afternoon practice and qualifying plus the best seats in the venue and much more.
Three familiar faces on the SX1 Podium Round 2 Port Adelaide
(credit: Aaryn Minerds)
SX1 Results – Round 2 – Gillman, SA
1. Justin BRAYTON
2. Luke CLOUT
3. Daniel REARDON
4. Brett METCALFE
5. Richie EVANS
6. Joel WIGHTMAN
7. Jesse DOBSON
8. Todd WATERS
9. Jackson RICHARDSON
10. Dylan LONG
11. Jayden RYKERS
12. Justin CARAFA
13. Caleb WARD
14. Gradie FEATHERSTONE
15. Dylan WOOD
16. Cody DYCE
17. Lochie LATIMER
18. Joel CIGLIANO
DNF. Lawson BOPPING
DNF. Elijah WIESE
SX2 Results – Round 2 – Gillman, SA
1. Mitchell OLDENBURG
2. Joshua OSBY
3. Aaron TANTI
4. Jay WILSON
5. Chris BLOSE
6. Regan DUFFY
7. Connor TIERNEY
8. Tomas RAVENHORST
9. Bradley TAFT
10. Dylan WILLS
11. Rhys BUDD
12. Geran STAPLETON
13. Ricky LATIMER
14. Kaleb BARHAM
15. Jayce COSFORD
16. Chandler BURNS
17. Jack KUKAS
DNF Morgan FOGARTY
DNF Wilson TODD
DNF Jacob HAYES
SX1 Championship Standings After Round 2 of 5
1. Justin BRAYTON – 50
2. Luke CLOUT – 42
3. Daniel REARDON – 42
4. Brett METCALFE – 36
5. Richie EVANS – 29
6. Todd WATERS – 28
7. Dylan LONG – 27
8. Joel WHIGHTMAN – 25
9. Jayden RYKERS – 22
10. Jesse DOBSON – 21
11. Gradie FEATHERSTONE – 18
12. Caleb WARD – 17
13. Dylan WOOD – 14
14. Lawson BOPPING – 14
15. Jackson RICHARDSON – 12
16. Cody DYCE – 10
17. Lochie LATIMER – 10
18. Justin CARAFA – 9
19. Blake COBBIN – 4
20. Joel CIGLIANO – 3
SX2 Championship Standings After Round 2 of 5
1. Aaron TANTI – 42
2. Joshua OSBY – 40
3. Mitchell OLDENBURG – 38
4. Chris BLOSE – 36
5. Jay WILSON – 34
6. Bradley TAFT – 27
7. Jacob HAYES – 25
8. Dylan WILLS – 22
9. Ricky LATIMER – 16
10. Jayce COSFORD – 16
11. Regan DUFFY – 15
12. Connor TIERNEY – 14
13. Kaleb BARHAM – 14
14. Wilson TODD – 14
15. Tomas RAVENHORST – 13
16. Rhys BUDD – 11
17. Kyle WEBSTER – 11
18. Geran STAPLETON – 9
19. Jack KUKAS – 9
20. Morgan FOGARTY – 9
21. Hugh McKAY – 6
22. Chandler BURNS – 5