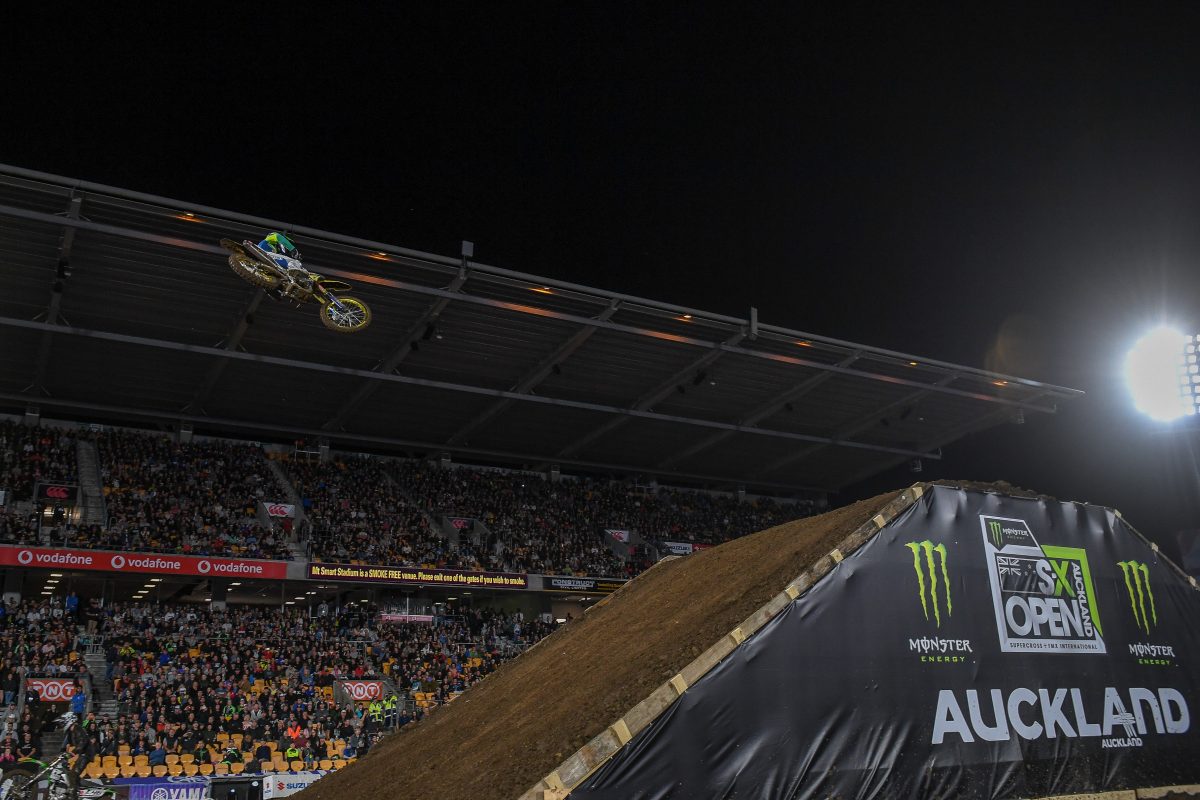 Australian Supercross Championship makes history with addition of Auckland round
Round 4 of the Australian Supercross Championship will see history made when teams head across the ditch to compete inside the 25,000 seat capacity Mount Smart Stadium on November 16 for the Monster Energy S-X Open Auckland.
The event will also form the opening round of the S-X Open Supercross FIM Oceania Championship which will then conclude inside Marvel Stadium on November 30 at the AUS-X Open Melbourne where the FIM Oceania Supercross Champion will be crowned, a trophy won last year by two-time World Champion and Australian legend, Chad Reed.
"It's important to retain your championship, and this year to win the second FIM Oceania Championship would be a huge honour. I think we'll have much better preparation and be able to come out swinging in New Zealand.
"To see the event also form part of the Australian Supercross Championship is huge for the sport I love so much. I grew up racing Supercross in Australia and it helped me get to where I am today so to see it expand to a huge stadium in New Zealand is a real testament to the sport and its organisers.
"Fans in Auckland last year were unbelievable, despite the challenging conditions of the weather, I had such a great time, and the Supercross was amazing, you couldn't have asked for a better night of racing."
This year will see the 2018 World Supercross Champion Jason Anderson gear up for the S-X Open Auckland as he looks to take down two-time World Champion and defending S-X Open Auckland Champion Chad Reed – with both World Supercross Champions locked in to race at Mount Smart Stadium on November 16.
Anderson will head to New Zealand for the first time ever, which he says will be a fresh addition to his offseason training and is keen to win the title of FIM Oceania Champion.
"I'm super excited to be heading to the S-X Open Auckland, it will be my first time to New Zealand, I saw it last year and it seemed like a really epic event," Anderson said.
"I only get to choose a select few events to race at in the offseason so heading to Auckland will keep my offseason interesting, and to win the FIM Oceania Supercross crown would be sweet, it would be another one to add to the trophy case, it's one I don't have and look forward to putting it up there.
"Competing against Reedy, I know he is a tough competitor, no matter how old he gets he's always fighting and he's always gnarly, and he definitely won't make it easy on me, and I know it's going to be a good battle and a fun race," commented Anderson.
Australian Supercross Championship teams will do battle with the likes of Reed and Anderson, plus soon to be announced international stars, and will be given the opportunity to learn from the World Champions on world championship sized Supercross tracks.
Featuring the world's best riders going head-to-head on a full-sized World Championship style Supercross track and the greatest Freestyle Motocross (FMX) riders on the planet, live music and entertainment, stunning pyrotechnics, junior and celebrity races, plus FMX best-trick and best-whip competitions; the Monster Energy S-X Open is an incredible entertainment spectacle for all ages.
The record-breaking success of the 2018 event was unprecedented, with a crowd of over 22,500 attending Auckland's Mt Smart Stadium, making it the biggest international Supercross event to ever take place on Kiwi soil and ultimately putting the country on the world Supercross map.
The S-X Open Auckland database pre-sale commences June 20 from 12pm NZT with public on-sale becoming available from June 26 12pm NZT via Ticketmaster, tickets start from $39.00*.
For more information and to access exclusive news and pre-sale tickets sign up to the database at sxopen.com
The 2019 Monster Energy S-X Open Auckland is proudly supported by Auckland Tourism Events & Economic Development (ATEED) and Monster Energy.
Auckland Tourism, Events and Economic Development (ATEED) Head of Major Events Stuart Turner says, "We are thrilled to see the return of Monster Energy S-X Open Auckland after such a successful event last year. This event adds real buzz and excitement to our growing calendar and is a real drawcard for visitors and locals alike."
Stay tuned to S-X Open Supercross (@sxopensupercross) on social media for more truly amazing announcements that are sure to blow New Zealand fans away in 2019.
KEY INFORMATION ON THE 2019 MONSTER ENERGY S-X OPEN INTERNATIONAL SUPERCROSS FIM OCEANIA CHAMPIONSHIP:
The S-X Open Supercross FIM Oceania Championship is the most unique international Supercross Championship outside of the USA, and will be sanctioned by the Fédération Internationale de Motocyclisme with FIM Oceania status and sanctioning.
S-X Open Supercross FIM Oceania Championship will include the opening round at the S-X Open Auckland at Mt Smart Stadium on November 16 and the final round, the Monster Energy AUS-X Open Melbourne at Marvel Stadium on November 30, with the Champion being crowned in Melbourne.
S-X Open Auckland will form the fourth round of the Australian Supercross Championship, the first time an event in New Zealand will be a part of the Australian series.
Featuring the Triple-Crown Final race format in both Auckland and Melbourne events, the S-X Open will be non-stop, high-intensity action that will have fans on the edge of their seats, for the entire duration of the event.
The S-X Open Supercross FIM Oceania Championship will feature the very best international athletes as well as New Zealand and Australia's best for the second year running in New Zealand and Australia.