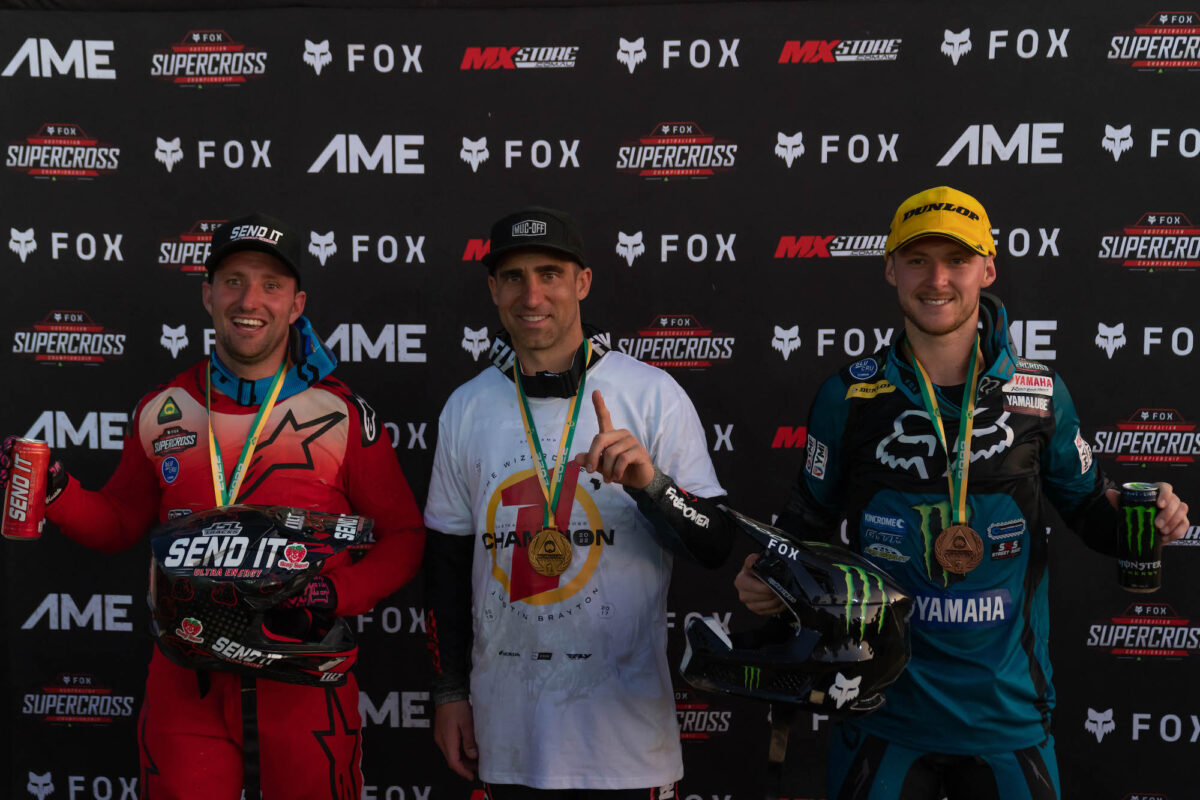 ANSTIE AND BRAYTON DO THE DOUBLE AS THE 2022 FOX AUSTRALIAN SUPERCROSS CHAMPIONSHIP CURTAINS CLOSE
ANSTIE AND BRAYTON DO THE DOUBLE AS THE 2022 FOX AUSTRALIAN SUPERCROSS CHAMPIONSHIP CURTAINS CLOSE
Following an intense season of FOX Australian Supercross competition which involved drama every step of the way, it was Team Honda HRC Australia duo of Max Anstie and Justin Brayton who walked away from season 2022 as the respective champions.
In a hard fought night of racing in Wagga Wagga, defending champion Brayton put himself in a great position during the opening main event of the double header, only to sustain a freak puncture moments from the chequered flag. This netted him a P4 while rival Matt Moss took victory, and tightened the standings up substantially.
In main two, Brayton rode a measured yet high pressured ride to land another fourth place, and by virtue secured the 2022 FOX Australian Supercross Championship in the SX1 Class by one point over Moss, marking his fifth consecutive crown.
"Definitely one of the more stressful nights of racing in my career," Brayton commented.
"We were up against it this season and definitely encountered some challenges. For me to leave my family and come here; I expect nothing less than to win. Dad doesn't leave for weeks to not get the job done. Number five is incredibly special for that reason," finished the American native.
In the SX2 Class, stablemate Max Anstie continued his fine form in Australia, piecing together a calculated night that saw him secure the championship comfortably. Serco Yamaha's Cole Thompson took the nights overall, with Nathan Crawford and Anstie rounding out the Wagga Wagga podium.
"Huge shoutout to the whole Honda team in Australia. They gave me everything I needed to get the job done, and here we are, after an awesome season, standing here with the number one plate," finished Anstie.
The 2022 FOX Australian Supercross Championship season saw a rollercoaster of storylines, and re introduced the sport to thousands of fans around Australia and the world through digital, broadcast, and at event presence. For season '23, the series will continue its upward trajectory, and look to build upon what has been an incredibly promising season of supercross.