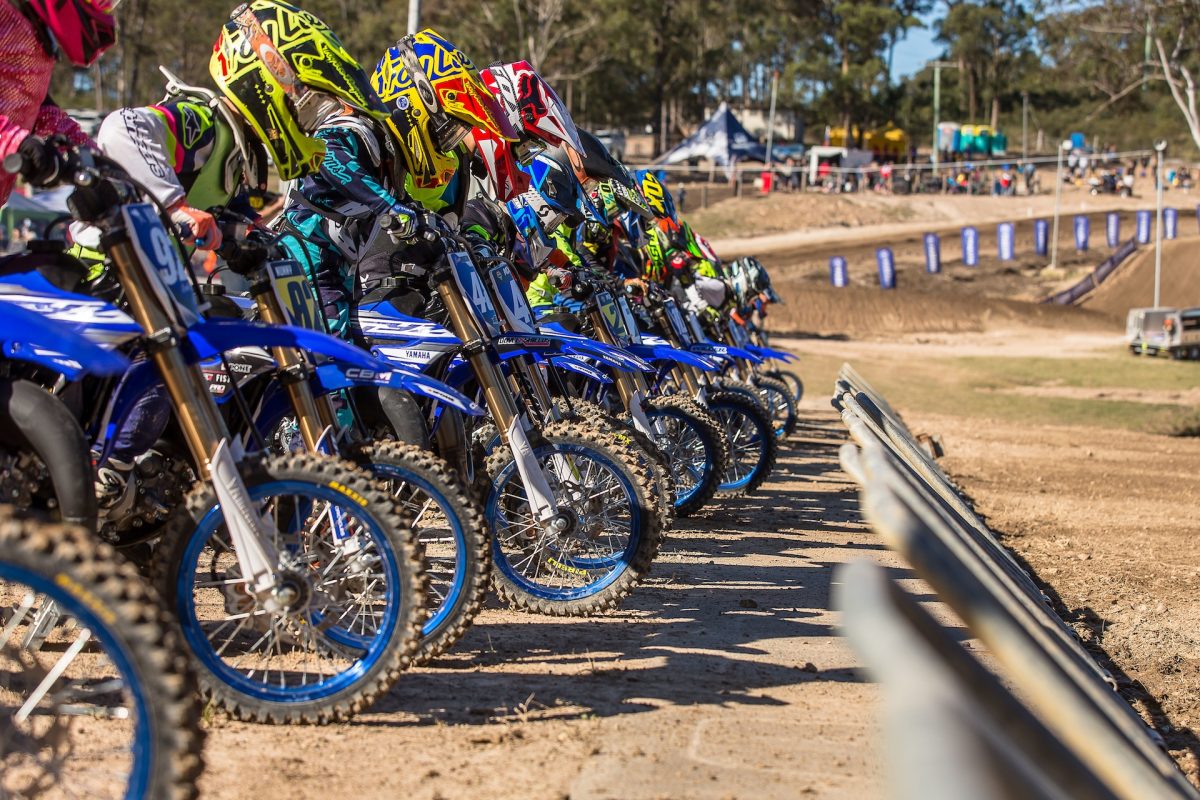 Geelong to host first Supercross YZ65 Cup
Junior YZ65 Cup racers lining up at the start gate at MX Nationals Ranch MX NSW round earlier this year.
Geelong to host first Supercross YZ65 Cup
20 young riders will have the chance of a lifetime when they line up behind the gates at GMHBA Stadium Geelong for Round 3 of the Australian Supercross Championships, presented by Yamaha Motor Australia (YMA).
YMA has confirmed the Geelong Round will be the first supercross to host the YZ65 Cup, where junior riders will have the opportunity to compete at a national level event followed by Round 4 Port Adelaide.
The lucky juniors will be guests of Yamaha's factory race teams, which event promoter Troy Bayliss says is an opportunity for the future stars of Supercross to gain valuable insights into professional racing, including mentoring from CDR Yamaha Monster Energy factory rider Dean Ferris and owner Craig Dack.
"We are pleased to be able to provide the opportunity for junior girls and boys to enjoy our events as much as we do, and to be able to ride a Supercross track within a venue like GMHBA Stadium in front of thousands of fans is sure to help with the future of the sport," Bayliss said.
"Our commitment to juniors has been reaffirmed with the announcement last week of the 85's and Junior Lites joining SX1 and SX2 on track, and Troy Bayliss Events are pleased to say the 65's, 85's & Junior Lites will all contest finals during the Saturday night main programs at both the Geelong & Port Adelaide rounds."
"Imagine being an eight, 12 or 16 year old, your name is in the program and your set up within the pits next to all the Australian factory teams plus the Internationals who are here to race for the championships. Then to line up on the grid and look out to thousands of spectators, it will make the hairs on their neck stand up, even if they don't any," added Bayliss.
Since releasing the YZ65, Yamaha Motor Australia first gave junior riders the chance to become involved in the YZ65 Cup a few weeks ago at the MX Nationals rounds held at the Ranch MX NSW & Coolum QLD MX Nationals, with the next event being the YZ65 Cup for the Geelong and Port Adelaide Supercross rounds.
YMA Sales and Marketing Manager – Matthew Ferry points to a successful first round of the YZ65 Cup as a major drawcard for the Australian Supercross events.
"Our first YZ65 Cup events at Ranch MX and Coolum were a huge success with parents and kids enjoying the full bLU cRU treatment, and to see so many happy faces and positive feedback from all involved has really underlined the fact that Yamaha is on the right track with creating these money-can't-buy experiences for our youngest bLU cRU riders," Ferry said.
"This means that our YZ65 racers will be able to compete in four states – NSW, QLD, VIC, and SA, which will give them the experience of competing in a national championship, and when you add the bonus of being able to pit under the bLU cRU awning with full access, assistance, and guidance from our factory race teams, then it's no surprise to see so many young guns signing up for the YZ65 Cup."
"We look forward to continuing the experience at Geelong and beyond," added Ferry.
Troy Bayliss Events are pleased with the direction the 2018 Australian Supercross Series is heading, and with juniors being the future of the sport of supercross, allowing three junior classes to contest finals in front of the fans during the main event program is important, the atmosphere and the experience will hopefully see some of these juniors be headlining SX1 & SX2 in years to come.
Round 3 of the Australian Supercross Championship is at GMHBA Stadium Geelong on Saturday, October 13, followed by Round 4 at Gillman Speedway in Port Adelaide on October 20.
To apply for either Round 3 or 4 YZ65 Cup please follow the links
Round 3 – https://www.yamaha-motor.com.au/discover/news-and-events/events/motorcycle/2018/october/yz65-cup-round-3
Round 4 – https://www.yamaha-motor.com.au/discover/news-and-events/events/motorcycle/2018/october/yz65-cup-round-4
Tickets to both rounds are available now via www.AustralianSupercross.com.au and fans are urged to hurry before they sell out.
Junior YZ65 Cup racer Leah Rimbas at MX Nationals Ranch MX NSW round earlier this year.