Tough Night for Tanti at AUS-X Open
Serco Yamaha's Aaron Tanti endured a tough night at the final round of the Australian Supercross Championships after falling heavily from his bike and being unable to finish the night.
Tanti entered the night in third place in the SX2 championship and within eight points of the championship lead. His pace and consistency in the opening four rounds showed he was a legitimate chance of snaring the championship if things fell his way on the night.
He produced that speed during the day time practice and qualifying sessions but when he charged into the first turn of his heat race, he fell and was instantly behind the eight ball for the rest of the night. He qualified through to the Triple Crown main event for the SX2 division but with 12th pick of the gate, his position was less than ideal.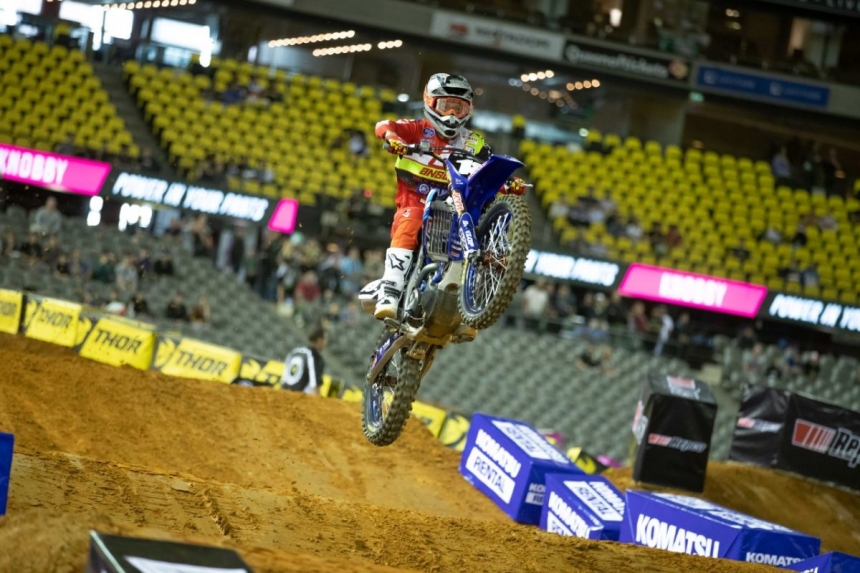 The first turn also proved to be difficult for riders and Tanti was caught up in a first turn pile up in race one and was well down the field. He finished 14th in the first race but was determined to get his night back on track in race two.
He rebounded well and started in a much better position rounding the first lap in the top four. He moved into third and the top four were all wheel to wheel in a tight battle for the race lead. As the race was reaching a climax when Tanti got all out of shape in a rhythm section and was ejected violently from his bike.
He dismounted mid air and got tangled with his bike as they both came down to earth. He rolled to the side of the track as his bike bounced to the other. He was then assisted from the track by the RACESAFE Team and while cleared to leave on the night, he faced further tests on Monday morning.
Those tests revealed some bone bruising around his hip and pelvis region as well as some internal damage and strains. Nothing will require surgery, but Tanti is expected to be off the bike for six to eight weeks while he recovers.
"It was a frustrating night for me but one I hope I will learn from when I'm next in that situation," Tanti reveals. "I qualified in fourth and not far of the pace but from then on it just went downhill. I crashed in my heat, then crashed again in the first final before my big crash in race two.
"I jumped a little short onto the table, then didn't get off it cleanly and over the single but I was already committed to doing the next three and it got real ugly at that point. I hung onto the bike but was off to one side of it and just landed heavily and awkwardly.
"The positive was that it could have and should have been a lot worse. I have watched it on reply a few times and it was a good crash. Thankfully, I was able to walk away and also not have done any serious damage.
As a result of the incident prone night, Tanti fell to fifth in the championship but can still reflect on what was a very competitive tilt at the SX2 championship that even saw him have the leaders' red plate after round two.
"I rode four rounds really well and one round not so well, so there were a lot of positives to take away from the championship. My speed was there with the US riders and my fitness and starts were good the majority of the time. It was a disappointing way to end the championship and I feel for the Serco Yamaha team as well all out so much effort into it and didn't get the result we wanted," Tanti ends.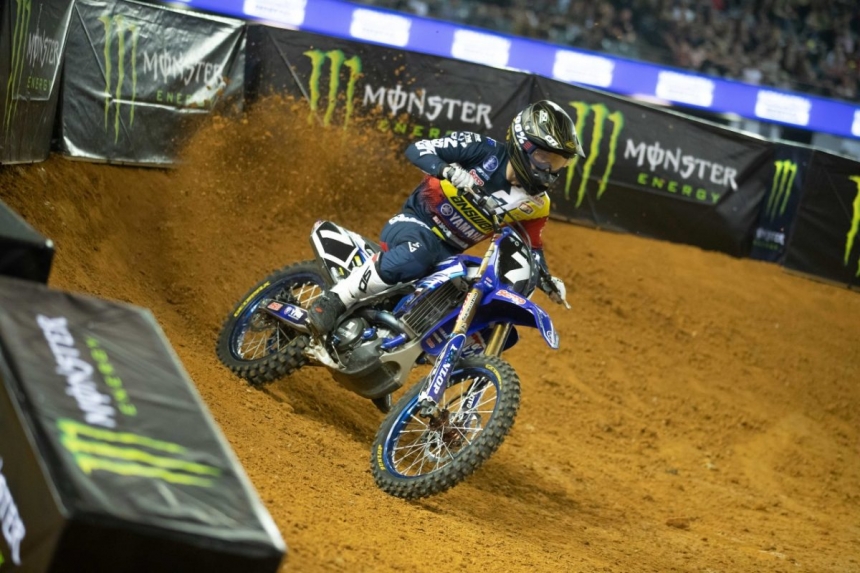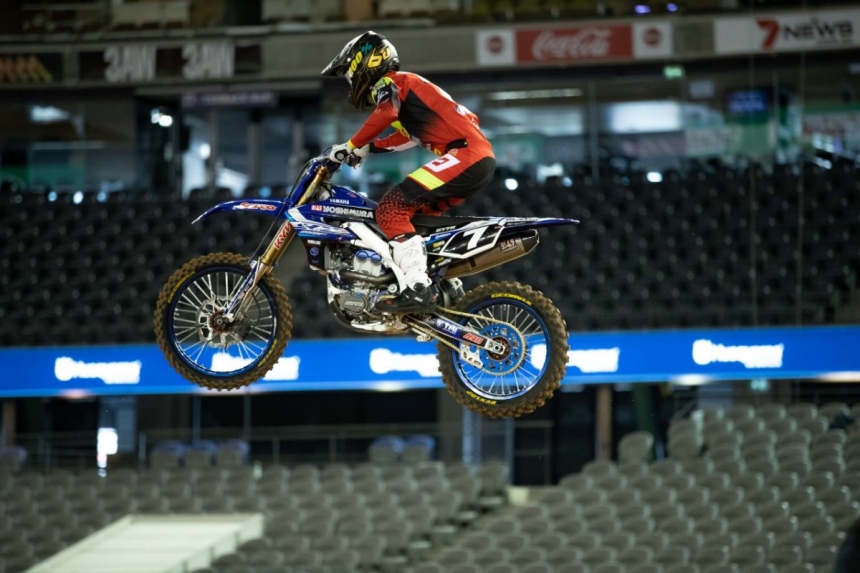 Connor Tierney continued his consistent form finishing the night in sixth place in the final night of his Serco Yamaha guest ride. Tierney scored 6-6-10 results in a good showing and moved his way to a very respectable sixth in the SX2 championship.
"Its been a great opportunity for me to work with the Serco Yamaha team during the last two rounds and I can't thank everyone on the team enough for giving me this chance. I felt a bit more comfortable this weekend after Auckland as I was more accustomed to the bike and to finish sixth in both the night and the championship was a good result.
"Having the knowledge of a team like Serco is a big advantage as there is plenty of experience on the team and after each session I can come back and have a talk about what I'm doing on the track and where I can improve.
"Its been a big learning curve for me but I enjoyed my time with them and understand now why that have been so successful in the past," Tierney ends.
With the 2019 racing calendar concluded, Serco Yamaha now get to take a rest from the weekend grind before hitting the reset button for 2020. A team announcement is due shortly to announce their rider line up and hope to add more championships to their cabinet next season.