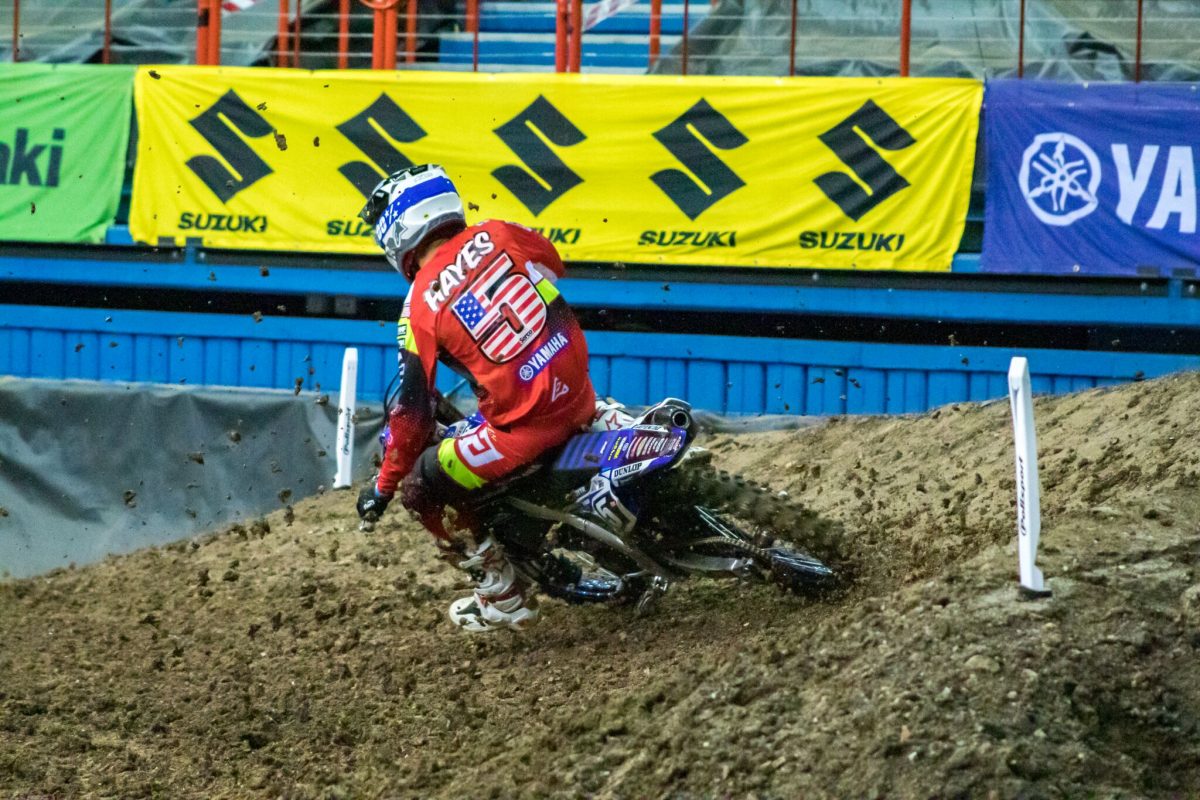 Winners circle: Jacob Hayes
After receiving the call up from Serco Yamaha to compete in the Australian Supercross Championship in 2019, American import Jacob Hayes jumped at the opportunity. Hayes piloted the #5 YZ 250f to a dominant main event two victory in Brisbane, and claimed the overall round win in the process.
Congrats on the win – a lot of people say prior to round one that they just want to get through clean, safe and gain a solid haul of points. But I'm assuming that's just a generic response to calm the nerves – you all want to win, right?
That's right. I know the team was a little stressed heading into it, which made me a little stressed just because only four made it straight to the main out of the heats. Also, I'm not going to lie, the class is super deep this year with guys like Jay, Osby, Blose, Oldenburg, Tanti and Taft; it's a deep field – so it does put a lot of pressure on you just to make it through the heat race. Then outside of the heats, one slip up on a track like that and there goes your championship. So really anything can happen in tight racing like that.
You make mention of the class being deep, but you also had a pretty good run on the West Coast in the United States this year. Does that give you confidence heading into round one say against those guys?
Definitely, and mainly because last year I felt like I left just a little bit on the table over here. So I really wanted to come back over this year and really make a statement, and show the guys over here and everywhere else that I could win. I was really wanting to win round one and make that statement early and let everyone know that I'm not here to mess around, I'm here to win.
A P3 in main event one was really solid considering you went down on a circuit where there isn't a whole lot of time to be made up.
Absolutely, just because I felt like when the gate dropped for the heat races and main events I'm more known for my racing speed and not practice – no money is paid in practice (laughs). So when the points are on the line and moneys on the line I feel like I turn it up a little bit, and I ended up uncorking the triple, triple after the finish after watching the 450cc guys do it in the Superpole, so that gave me a lot of time that I could make up in main one, and then in main two I got out front early and Chris and I went at it for a little bit, so I covered my lines, and then ended up pulling away for the win.
It was interesting watching both classes because I thought 'wow, this is going to be really close' as there wasn't a whole lot of time to be found, however I was surprised with you and Brayton in how far you both pulled away in the mains you won… 
Yeah, and that's good for me! I don't know about the others. But yeah I feel good moving into Adelaide because like you said it was a tight track, hard to make up time, and for me to come through the pack in the first main event and then grab the start in the second one with Chris behind me, eventually beating him by six seconds at the flag, and yeah just moving into Adelaide with longer lap times and a longer main with the traditional format, thats a little bit more my style as fitness comes into play along with more opportunities to make up time. So yeah I want to go there, put my head down like I did in Brisbane – I went in there with the thought that I want to win the main event and overall – and I want to do the same in Adelaide – keep the momentum rolling.
Awesome well congratulations again, and best of luck in Adelaide!
Thank you!