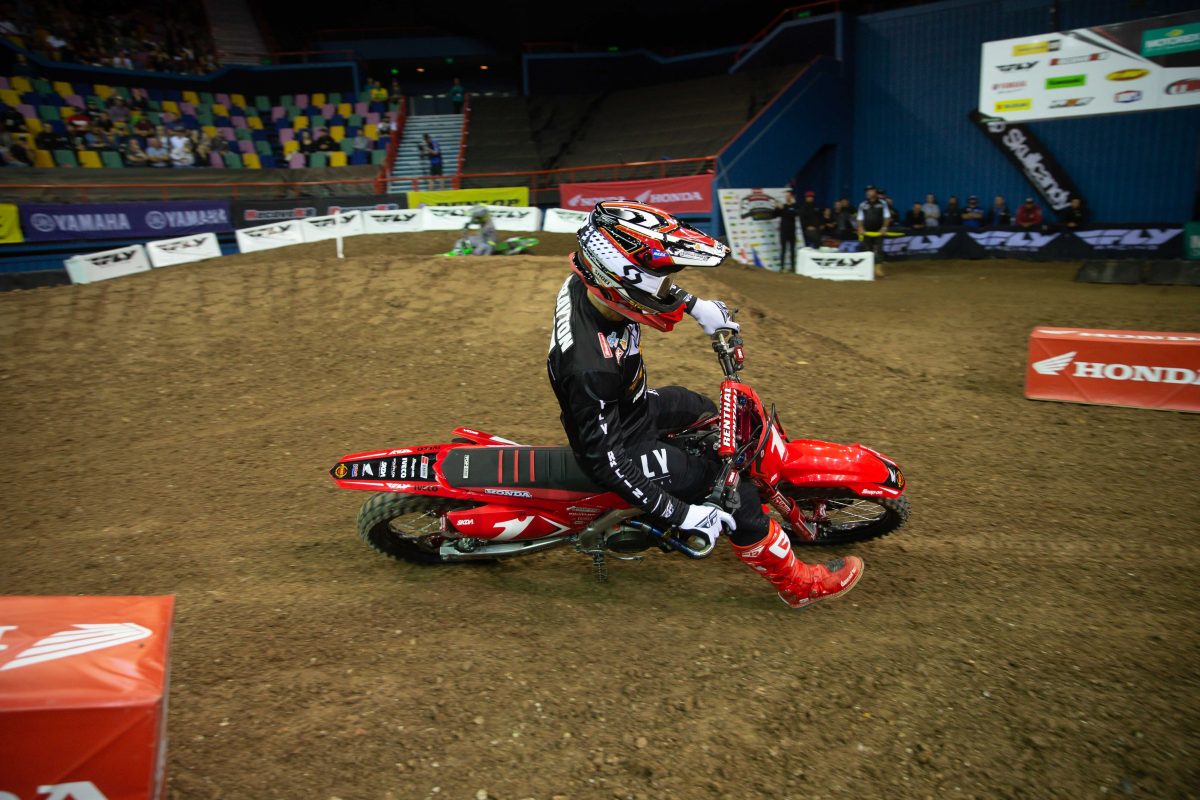 Winners Circle: Justin Brayton
After a commanding 1-1 performance in Brisbane, Penrite Honda's Justin Brayton looks to back it up in Adelaide this weekend.
On a circuit where there really wasn't that much time to be found, you had half a second on the field…
Yeah, I kind of even surprised myself to be honest. I knew going into that race that it'd be pretty difficult to really separate myself from anybody with the track being so tight and everyone doing the same thing, so yeah just little things here and there just added up to about half a second a lap. I was really stoked and proud of myself for being able to do that on that type of a track.
And then the main thing was just getting the starts that I did in both main events; I really challenged myself to get both holeshots because I knew if I did, I'd be able to get out front and make life a whole lot easier for myself and if I didn't, that it was going to be a long night. So I'm really proud of myself and the whole team, round one is really that one round where a few things are out of your control, so it was good to control at least what we could with being the fastest guy and getting those good starts.
And you talk about round one, it's sort of a run of the mill saying that everyone says, in getting good points, not getting hurt, and just taking what you get out of it…
I used to always say that too five or six year's ago, but I quickly realized that was just a safety net and a 'way out' I guess if you don't get the results that you want to achieve at round one, because everyone's nervous – you're not sure what everyone else has been doing, where your speeds at – and I came into it knowing that I did all I can do as far as preparation goes.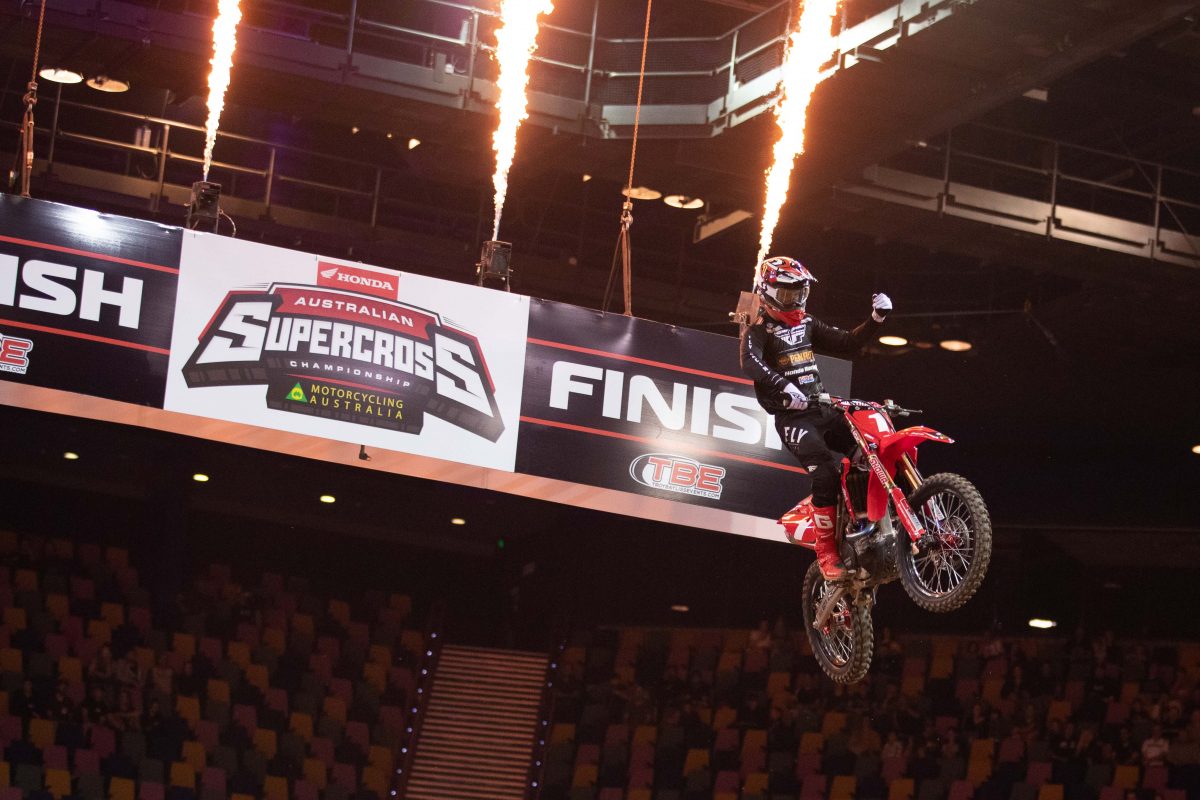 (Photo Credit: Foremost Media)
It's cool and refreshing to hear someone speak truthfully on the matter, because the nerves are completely normal and you obviously still want to go out there and get the win ideally.
It's super normal to be nervous – and like I said, I was the same way for a while. Now I think its just an easy way out; you're trying to play tricks with your mind, acting like it's not important, and you can kind of go there and get whatever result you get and go home. Where I realized that was just me trying to cop out on some nerves, so I just face it now and say 'look, I want to go there and win the race and set the tone early, and if I don't, then we've got some work to do and we'll go from there and adjust'. But yeah, it's always high pressure before round one.
Obviously the news broke that you've signed with HRC for next year alongside Roczen, and I'm wondering how much the motorcycle changes from what you rode previously? We know nowadays that stock bikes are so good, and that really with suspension and pipes you can go racing.
Yeah and I'll be honest, I went and bought a motorcycle about two months ago in North Carolina – a new 2020 Honda 450 – and bolted suspension on, my handlebars and a pipe and I felt like I could've gone to Anaheim 1 and raced it. The thing was so good, and it's been so long since I rode a stock bike, especially a stock engine, and I was absolutely blown away by how good it was. But as far as the HRC bike is concerned, the biggest thing is just the tuneability of it. Like if I want the power in a certain spot, they can get that, and then it's just having access to all the best guys for testing; the Showa guys, and just there's so many options when it comes to tuning the bike and making it exactly how you want it.
And really that's the biggest thing between a factory and standard bike, there's not a massive difference nowadays, it's just about being able to fine-tune it to how you want it.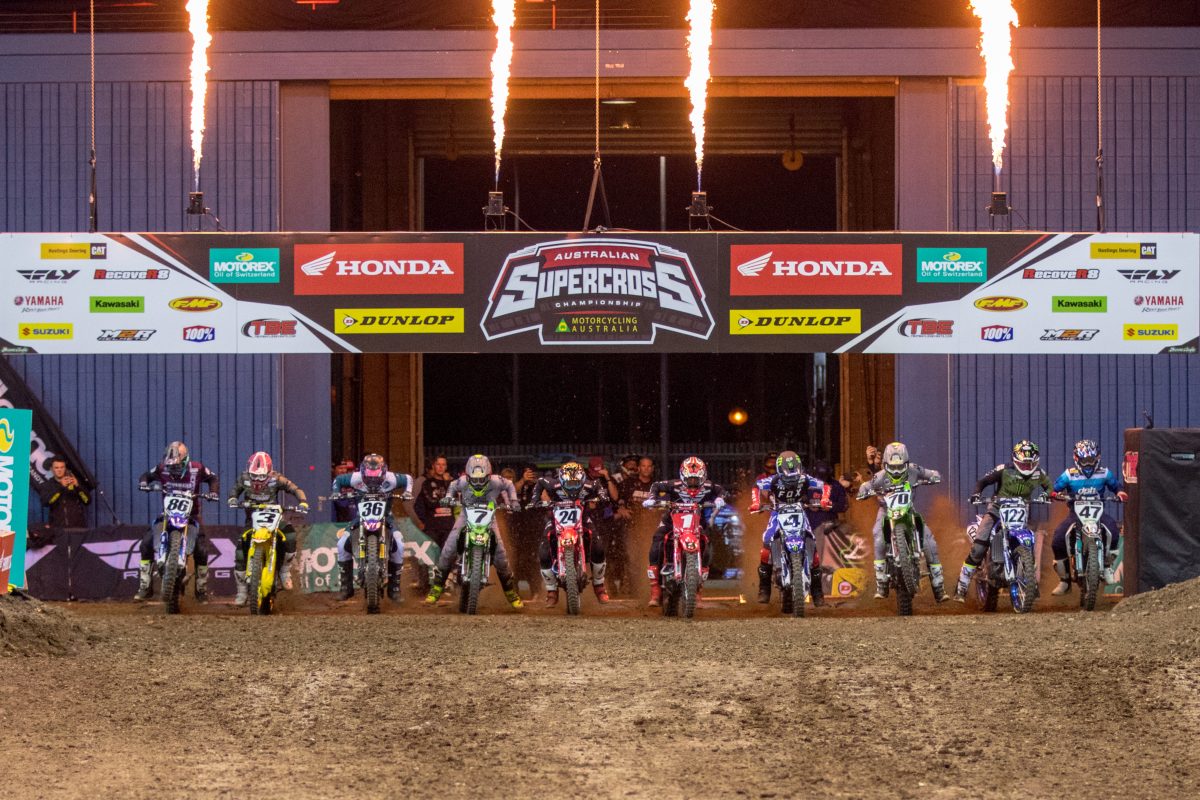 (Photo Credit: Aaryn Minerds)
With the series itself in Australia, I was thinking to myself the other day that there's no other country really where you can just slot into a factory Honda team, along with riding supercross tracks that are built to spec…
It's an amazing option to come over here, and I think I've proven that with my results in the States being really good since I've been racing over here. For me it just fits in great to our schedule, especially mine doing supercross only, and yeah I think you'll see more and more American's coming over – I just got the timing right with my relationship with Honda, and now I think it's going one step further with the manufactures looking at it as a positive. I mean, HRC is arguably the best team in the world, and one of their riders is over here doing the Australian championship, so I think it's a super cool time for me, our sport, supercross on the global platform, and that's what I'm trying to create – letting my sponsors know that it's a global sport.
Also coming over here has really helped my career and made it go much longer – I would've been done three or four year's ago if I was racing the full twelve month calendar of supercross and motocross, along with this being an awesome opportunity for me and my family to see the world, make some new friends, and spend three months in Australia.
Finally, I remember last year's preparation was marred with illness for you and the family, so anything is pretty much better than that, right? 
Yeah the preparation is much better already. Last year, everyone knew that I was sick, but I didn't tell everyone how serious it was – I mean I wasn't riding, I was basically either trying to take care of my wife who was sick with pneumonia, trying to take care of the kids who were sick, or trying to take care of myself who was sick with pneumonia, bronchitis and the flu (laughs). It was really, really tough from the day we landed last year, I just couldn't really train, I couldn't really ride – I know that there was one time that I did try and ride and I couldn't do five laps in a row, and I still had to go race that weekend.
So I was proud that I was still able to win the championship, but yeah last year was very difficult even at the last round, I had no sleep with a temperature in the 100's and it was just miserable. This year however we're already off to a much better start.