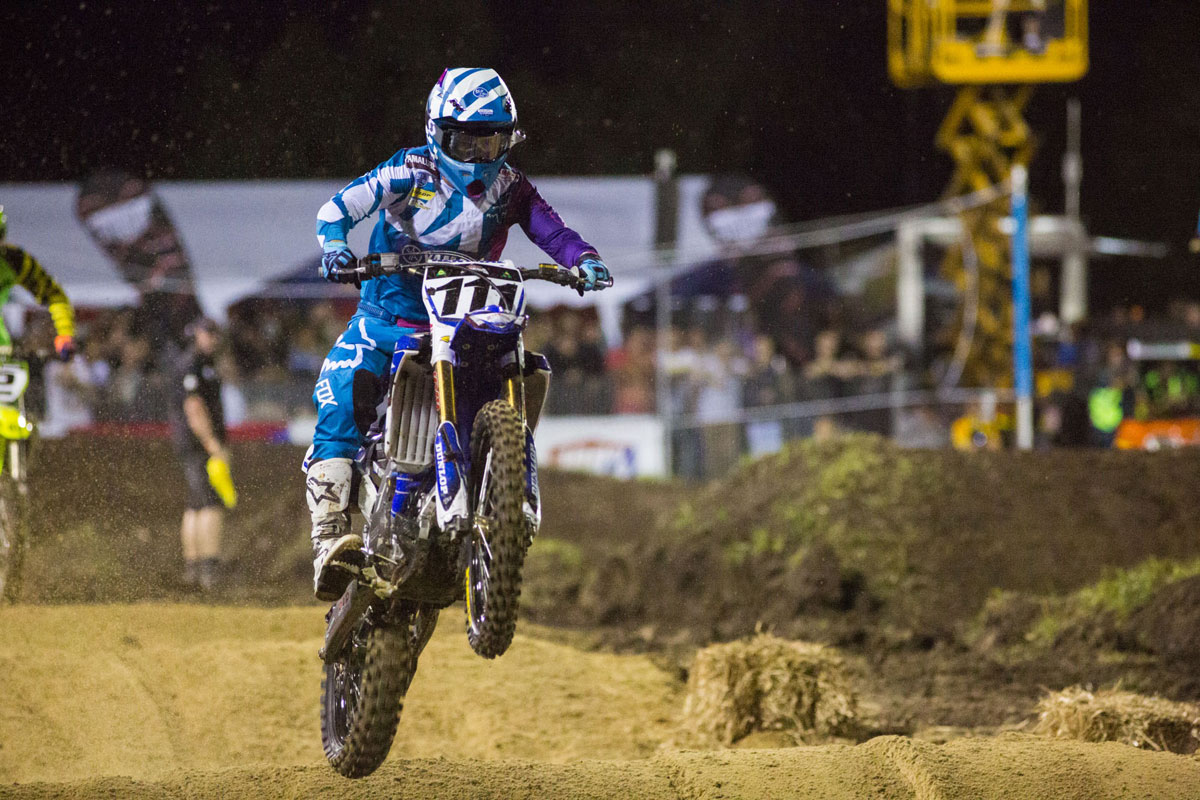 CDR Yamaha podium charge at ASX opener
CDR Yamaha podium charge at ASX opener
Yamaha Motor Australia press release:
In front of a capacity crowd at the Jimboomba- X Stadium, CDR Yamaha's Dean Ferris and Dan Reardon put their factory Yamaha YZ450F's on the podium to take second and third respectively at the opening round of the Australian Supercross Championship (ASX).
Despite the short preparation period, the Yamaha teamsters got their ASX championship aspirations off to a near perfect start with both riders looking great on the bikes and knowing the solid hit-out will have them well placed as the championship moves towards round two in a few weeks' time.
Known more for his motocross speed, Dean Ferris showed he has the skills when the dirt goes inside a stadium and the lights go on as he powered his way to an outstanding second place finish behind US import, Justin Brayton.
Ferris qualifying well throughout the day but when the gate dropped for the 20 laps, 20 rider, SX1 main event, it was Ferris who snatched the lead exiting the first turn. He instantly came under pressure from Brayton who managed to sneak by on lap three. But Ferris didn't give up his pursuit of the fast US rider and by lap 15 was back within striking distance and the race was set for a thrilling final few laps.
Ferris made a lung at Brayton with a couple of laps to go but couldn't make the pass and then when he made a small mistake, the gap opened up ever so slightly and Brayton hung on for the win with Ferris taking second, just 3.6 seconds behind.
"Everyone keeps telling me I'm an outdoor guy but I really like riding supercross and when I prepare for it, I think I can go well," Ferris explains. "I felt great on the bike tonight and the team have done a great job in getting me comfortable quickly on the bike and adjusting to riding the smaller tracks.

"Being the first round it's important to get things off to a good start and not do anything silly so it was a great start for me and with Dan also on the podium, it's a good reward for everyone at CDR Yamaha who have worked so hard over the past few weeks."
Current ASX champion, Dan Reardon had his first race back from a serious knee injury which sidelined him for three months and the day went exactly as planned. Reardon claimed a third place finish to put himself well in contention to retain his number one plate in the six round championship but more importantly, he came away with a clean bill of health as his knee stood up to the rigors of racing.
"The goal tonight wasn't about winning the race but getting a good result, getting 20 racing laps under my belt and continuing to build speed and fitness as the championship progresses," Reardon said. "I didn't quite have the pace and the fitness to match Justin and Dean for the full 20 laps, so I rode at a speed that I could manage and get the result I needed.

"We now have another three weeks before round two and that time will allow me to ride and train and develop the base I need to win these main events. It's a good start for me and I'm really happy with the bike and the direction we have at CDR Yamaha," he signs off.
With the three week break before round two, the CDR Yamaha team will still be burning the midnight oil with Dean Ferris already on a plane to Italy where he will represent Australia at the Motocross of Nations while Reardon is back at work and getting his body back to 100%.
"I'm really pleased with the performance of both riders," states team manager, Craig Dack. "Dean showed he is more than just a motocross guy and also I believe he showed plenty of maturity in taking his second place finish and not taking huge risks in going for the win at such an early stage in the championship.

"Dan is amazing and to think he has been back on the bike just on three weeks now but can ride at that speed for 20 laps is a credit to his professionalism. He will be better again at round two as he gets more seat time between the rounds so we expect him be right in the battle at Toowoomba."
Round two of the championship hits Toowoomba on Friday October 15 at the Toowoomba Showgrounds.
To follow the CDR Yamaha team on social media: www.facebook.com/cdryamaha or @cdr_yamaha