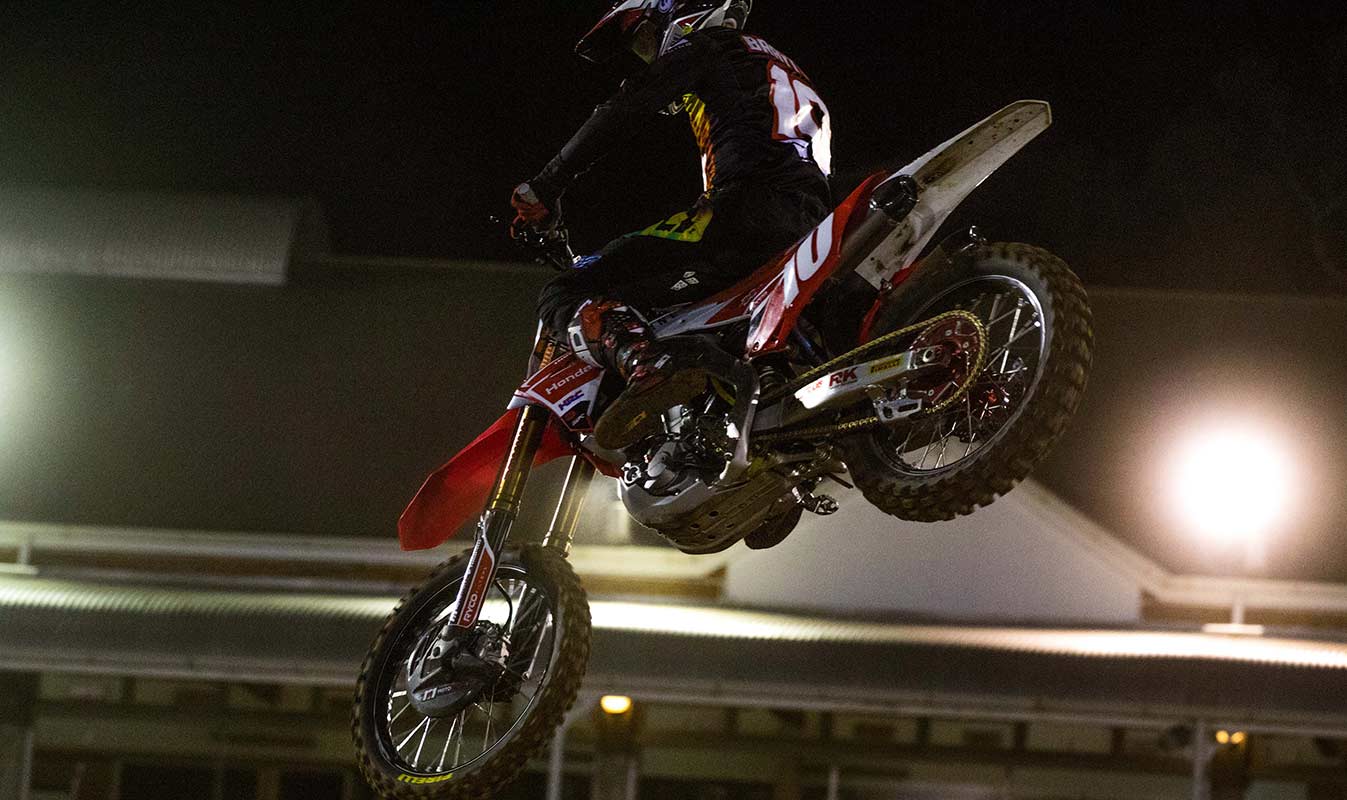 Honda's Justin Brayton remains undefeated
Honda's Justin Brayton remains undefeated in the Australian Supercross Championship.
HGA Honda Press release:
Honda Genuine Racing Team rider Justin Brayton continued to assert himself as a dominant force in the race for the 450 title. His second win from as many starts, Brayton once again showed that he is a class act. The American veteran asserted himself with a heat win, before going on to take out the main event. The win required an undisputable demonstration of experience, maturity and determination on the technically difficult Toowoomba track. Ultimately, Brayton was able to fend off challenges from fellow compatriot Wil Hahn and Australia's leading riders.
"I needed to be patient. I hit neutral off the line and went around the first corner in ninth or tenth. From there I knew I had to stay composed. I just picked parts of the track where I could make clean passes and I took my time.  The track was awesome at the beginning of the day, but it dried out quickly and became super technical".
Despite the bad start, Brayton was content to pace himself and make calculated passes, eventually taking the lead. Ultimately, he was excited to take the win and is looking forward to Round Three in Adelaide.
"It was a hard race to make as many passes as I did stick, but I am really happy.  We have won all heat races and finals and I want to continue this form coming into Adelaide. We have some more work to do with the bike between rounds- the tracks back home are a little different because of the moisture in them.  I am confident we can improve everywhere, which includes my fitness."
Teammate Adam Enticknap improved considerably from the first round, taking seventh in the final.  Although the likable American Racer and Hip Hop artist was satisfied with the improvement, he wasn't entirely content with it. Consequently, he aims to push even harder between rounds in an effort to get inside the top five.
"It was so much better and I felt a lot more comfortable on the bike.  I still have a long way to go to before I will be happy with my speed, but I see the result as a positive and a step in the right direction."
The teams sole 250 entrant, Jimmy Decotis had a dreadful night that was cut short way too early. Whilst challenging for the lead in his heat race, the reigning champion crashed hard through the whoops and was unable to continue. To compound matters, following the crash the medical team deemed him unfit to race in the last chance qualifier, ending his chance of a comeback.  Although Decotis was obviously disappointed, he was thankful that there were no serious injuries and values the decision to put safety first.
"Firstly, I am thankful I was wearing a Shoei helmet and I am also grateful for the fantastic work of the medical team. I need to remain positive that I haven't seriously hurt myself.  It's disappointing, as I was the fastest rider on the track and I felt really good in practice and qualifying.  I need to take those positives into the next round and remain focused. There are still plenty of races to be won".
Team Manager Steve Powell was noticeably concerned by Jimmy Decotis's crash, but maintained a positive mindset following a roller coaster weekend.
"Justin did an amazing job! Adam rode really well and clearly showed improvement. Overall, I am extremely happy Jimmy didn't get seriously hurt, as it was a nasty crash. I didn't know what to expect as he laid there on the track, so I was relieved to find out he will be OK.  We will regroup now and focus on Round Three."
450 Points
1st – Justin Brayton
8th – Adam Enticknap
250 Points
14th – Jimmy Decotis
For more information you can go to www.australiansuperx.com.au