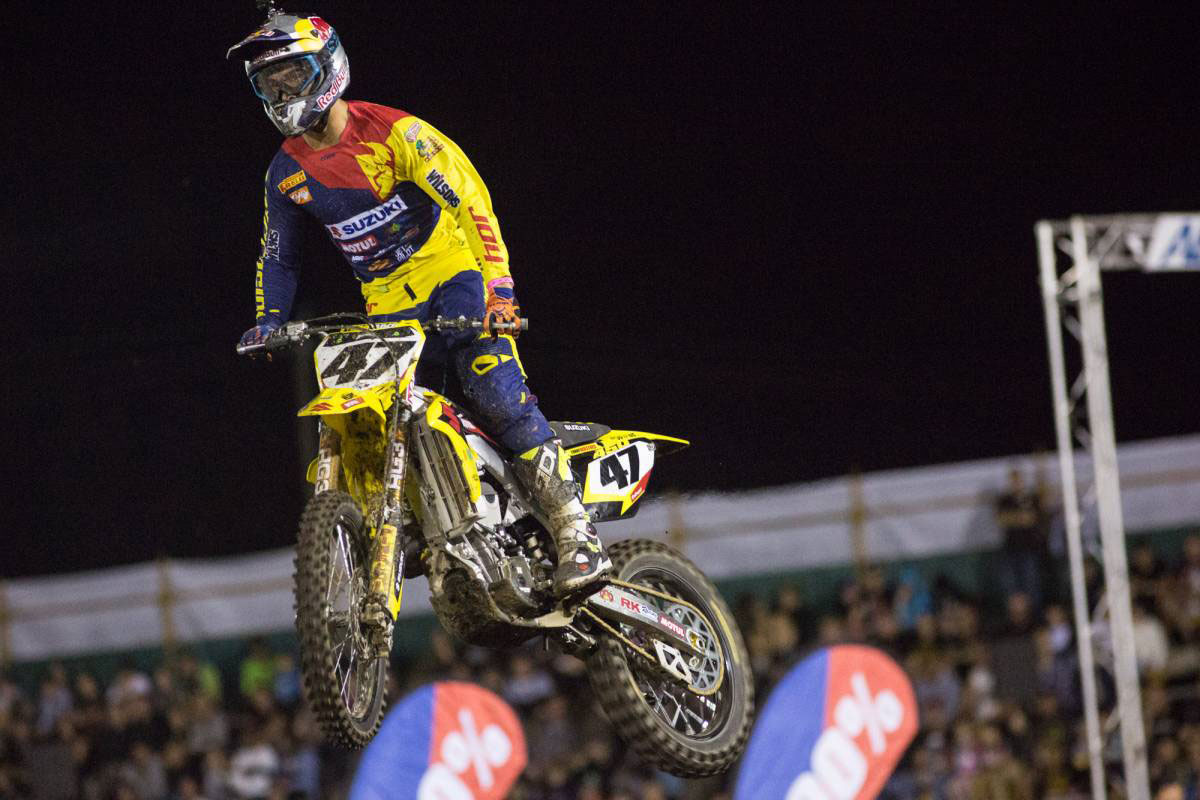 Impressive showing for Suzuki at round one
Impressive showing for Wilson Coolair Motul Factory Suzuki at round one
Wilson's Coolair Motul Factory Suzuki press release:
Wilson Coolair Motul Factory Suzuki SX1 riders Todd Waters and Luke Wilson got their 2016 Australian Supercross Championship campaigns started in spectacular fashion on the weekend, in what was a huge round one of the series at Jimboomba in Queensland on Saturday night.
Both Waters and Wilson showed impressive speed throughout the season opener, battling with Australia and the worlds fastest Supercross athletes across a heat each, as well as a hard fought 20 lap main event.
Waters, who had not raced Supercross since 2012, showed that he's in no way 'rusty' when it comes to the technical discipline. Waters secured an impressive second place finish in his heat behind the SX1 defending champion, while in the main event, Waters was with the lead pack from the minute the gate dropped. Despite making one last challenge for a podium position in the final turn of the race, Waters took the chequered flag in fourth on Saturday night.
For Wilson, round one was yet another break through result for the Suzuki mounted Queenslander. After taking fifth in his heat, Wilson went on to race to an impressive seventh in the SX1 main event – ensuring the Wilson Coolair Motul Factory Suzuki 2017 machines were well represented inside the talent packed top ten at Jimboomba.
Todd Waters – SX1 – 4th Overall

"I feel like I should have been on the podium tonight but I gave it away a little bit. Anyway I know my speed is there. I came from way back in the pack and passed a lot of riders to get to fourth," Waters shared.

"I haven't raced Supercross since 2012 so I'm pretty happy with where I was, and now I'll switch my focus to MXoN.

"I'm a racer, and Supercross is still riding a motorbike so I wasn't that surprised that I was up there, I just stuffed the start up and made things a bit difficult. But I honestly thought the 20 lapper would be more difficult, the last lap sort of snuck up on me and before I knew it, it was all over.

"I believe I deserved a podium tonight, but we'll just go over and get MXoN done now, and then we'll come back and see what we can do at Toowoomba."
Luke Wilson – SX1 – 7th Overall

"I'm pumped after tonight, I've been waiting for a long time for a result like this so I'm speechless to be honest," Wilson shared.

"Everything has been happening right around me, I have a baby coming, and I'm just in a really positive mind frame which has paid off.

"The SX1 class is packed, and to finish in a position like we did tonight is awesome. It wasn't about good luck, I earned it, and I couldn't be happier.

"We only had two weeks to get ready for this round and the team have put in a huge effort to make sure that we were behind the eight ball for round one. I had some good training on the bike too, and now it's really paid off."
Neale Wilson – Wilson Coolair Motul Factory Suzuki Team Manager

"Tonight was fantastic for us. Being the first round you never know exactly what to expect, but both Todd and Luke showed great speed, and gave us a glimpse of what they're capable of," Wilson said.

"Being such a tight turn around from Motocross to Supercross we worked very hard with both boys to test and have everything ready for round one, and they're both looking very comfortable.

"The team under the truck have worked tirelessly, and personally I can't thank them enough for their effort over the past three weeks.

"Todd and Luke performed exceptionally in what is one very talented SX1 class, so we're very excited about what's to come at the second round."
Wilson Coolair Motul Factory Suzuki will now begin preparations for round two of the 2016 Australian Supercross Championships being held at Toowoomba in Queensland, on Friday October 14.
To follow Wilson's Coolair Motul Factory Suzuki's progress this year, like 'Wilson Coolair Motul Suzuki' on facebook or follow @wilsonscoolairmotulsuzuki on Instagram.
For further information on the Australian Supercross Championships, head to www.ma.org.au