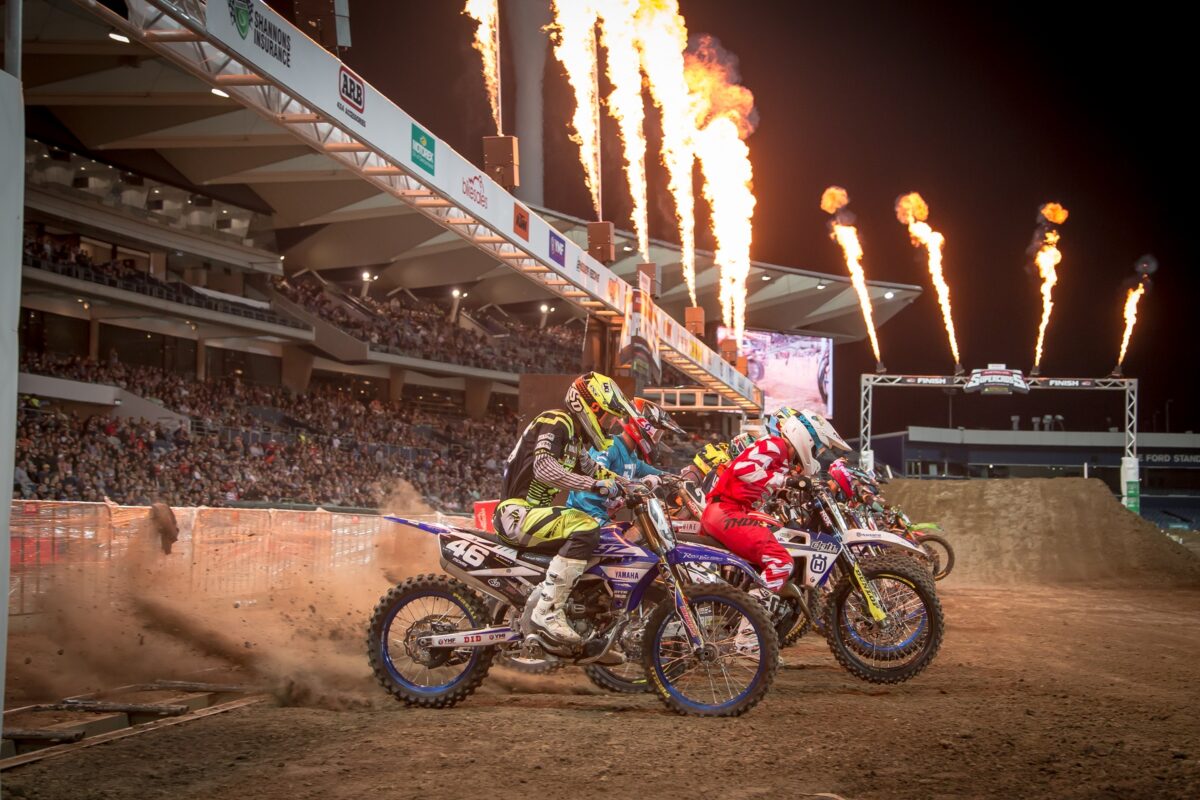 NEWCASTLE SECURES FOX AUSTRALIAN SUPERCROSS TRIPLE CROWN
The FOX Australian Supercross Championship is set to supercharge Newcastle with the series marquee event, the AUSX Triple Crown, secured exclusively by New South Wales to run on Saturday, November 26, 2022 at McDonald Jones Stadium.
The partnership with the NSW Government through Destination NSW and Venues NSW, supported by City of Newcastle will see supercross racing staged at McDonald Jones Stadium for the first time in over a decade, with the potential to extend into 2023 and 2024.
With a strong supercross and motocross fan-base located within the Hunter and across Australia, who have been starved of live racing action due to the forced event hiatus as a result of COVID-19, the AUSX Triple Crown is set to draw a large crowd from all corners of the country to McDonald Jones Stadium, come November.
Minister for Tourism and Sport Stuart Ayres said securing the Australian Supercross Championship for Newcastle was a great result for local fans and the visitor economy of the entire Hunter region.
"I am delighted Newcastle will be hosting the Australian Supercross Championship, which adds to its growing reputation as a city for premium sporting events. Novocastrians are renowned motorsports fans and McDonald Jones Stadium is a world-class venue, so this is going to be an unmissable spectacle with an incredible atmosphere that will be a major drawcard for visitors to the region from across the country," Mr Ayres said.
"Newcastle is the gateway to a fantastic part of NSW. Securing an event like this offers visiting fans an opportunity to explore internationally renowned vineyards, spectacular coastlines and breathtaking hinterlands, providing a significant boost to the visitor economy of the Hunter region. The NSW Government is committed to delivering large-scale national events like the Australian Supercross Championship in our regional cities, to drive visitation across the state and achieve our goal of making NSW the premier visitor economy of the Asia Pacific."
Venues NSW & McDonald Jones Stadium CEO Kerrie Mather noted the AUSX Triple Crown will not only highlight the venue's multipurpose use but is another major event the people of Northern NSW can look forward to.
"We're so excited to have secured the FOX Australian Supercross Championship, AUSX Triple Crown premier event for three years, kicking off at Newcastle's McDonald Jones Stadium in November," Mather said. "The AUSX Triple Crown is truly one of the most exhilarating and best events to watch live and we can't wait for the supercross riders and their loyal fans to return to the stadium for the first time in over a decade.
"We're about to embark on an action-packed few months at McDonald Jones Stadium, with the NRL season still in full swing, the return of the A-League, before supercross' main event comes to town and other major events in the New Year."
Newcastle Councillor Peta Winney-Baartz welcomed the announcement of the FOX Australian Supercross Championship, AUSX Triple Crown event, which will provide a boost to the city's economy.
"Thanks to the recently announced strategic partnership with Venues NSW, we're pleased to secure the FOX Australian Supercross Championship, AUSX Triple Crown event right here in Newcastle, adding to our city's already vibrant events calendar," Cr Winney-Baartz said.
"Attracting a diverse range of events to McDonald Jones Stadium provides our city with the opportunity to showcase Newcastle's broad range of tourism and hospitality offerings to visitors from intrastate and interstate.
"Major events like this create a much-needed economic injection to our city as local operators continue to recover from the impacts of COVID-19."
"We implore all fans to support the event to ensure it returns to Newcastle in 2023 and 2024."
The AUSX Triple Crown is a unique event that will consist of a bespoke race format known as the 'Championship within the Championship'. This will result in a hotly contested race for both riders and teams drawing fans from around the country to Newcastle.
Rights holder AME Group will run the series, with Ben Williams, General Manager of Events & Commercial, expressing his delight in the series returning to Newcastle, a region which has long supported supercross.
"We're thrilled to be returning AUSX to Newcastle and bringing the region a world-class supercross racing event," said Williams.
"The AUSX Triple Crown will be the marquee event of our series and we're so pleased to host it in Newcastle knowing there is a strong supercross and motocross fan base within the region who will come out and support the event. "With industry giant FOX supporting the AUSX series as Naming Rights Partner it also provides an amazing opportunity to showcase Newcastle and NSW together with the world-class racing to the world through their network.
"McDonald Jones Stadium is the perfect multipurpose venue, and we're so thrilled to have the support of Destination NSW, Venues NSW and the City of Newcastle, and thank them for working with us to bring this event to life."