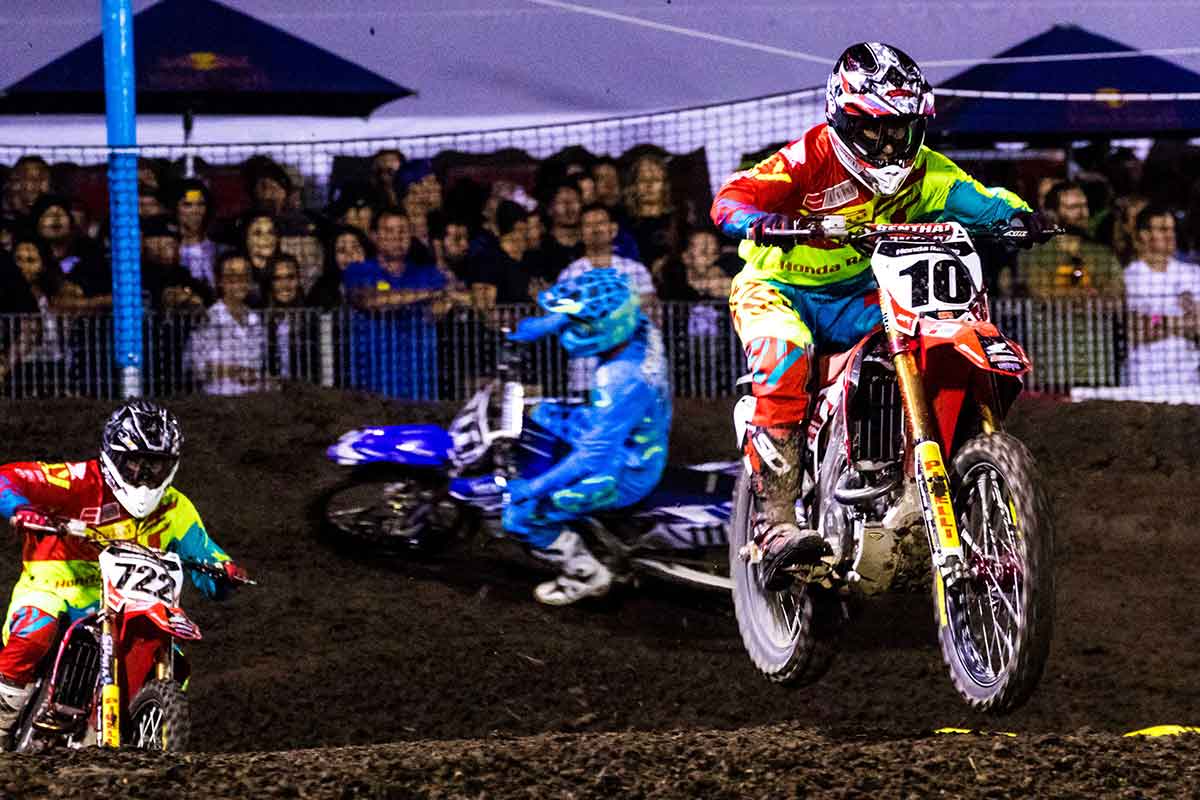 Round 1 – What a way to start the season
Round 1 – What a way to start the season
Round 1 of the Australian Supercross Championship was witnessed by a near capacity crowd in Jimboomba, Queensland.
Honda duo Justin Brayton and Gavin Faith took the wins in the 450 and 250 classes respectively. The first of six rounds did not leave anyone disappointed.
The day started with Gavin Faith proving fastest in qualifying aboard his Penrite Honda CRF250R.  In second was Jimmy Decotis aboard his Honda Genuine entry.
The 250 final was hard fought; Faith, Melross, Hunter and Richardson set the pace early.  The trio of Yamaha riders chased after Gavin Faith for the entire 15 laps, the Honda rider withstanding the pressures.  Melrose looked fit on return following a strong finish in America in the 450 Motocross Championship.
Current 250 champion Jimmy Decotis gated poorly and make several mistakes on his way to seventh.
Gavin was happy to take the win but noted he expects to have a fight on his hands in round 2 –
"Melross stayed with me the whole way, and I expected Jimmy to be there. I was happy to get a great start and have a clean track in the opening laps. I am certain its going to be close racing all year".
The 450 heat races were won by two championship favourites respectively, Daniel Reardon and Justin Brayton.
In the 20 lap final it was motocross sensation Dean Ferris who proved his critics wrong.  Many expected to see Australia's Ferris take a conservative approach one week out from the Des Nations, instead he pressured Brayton the entire race.
Once Honda Genuine Racings Justin Brayton took the lead he rode within his limits to maintain his win.  The drying track proved technical and demanding said Brayton – "I was happy to take the win. The track was tough; the grip went away as the track dried up.  Ferris rode extremely well and kept me honest".
The championship resumes on October 14th in Toowoomba.