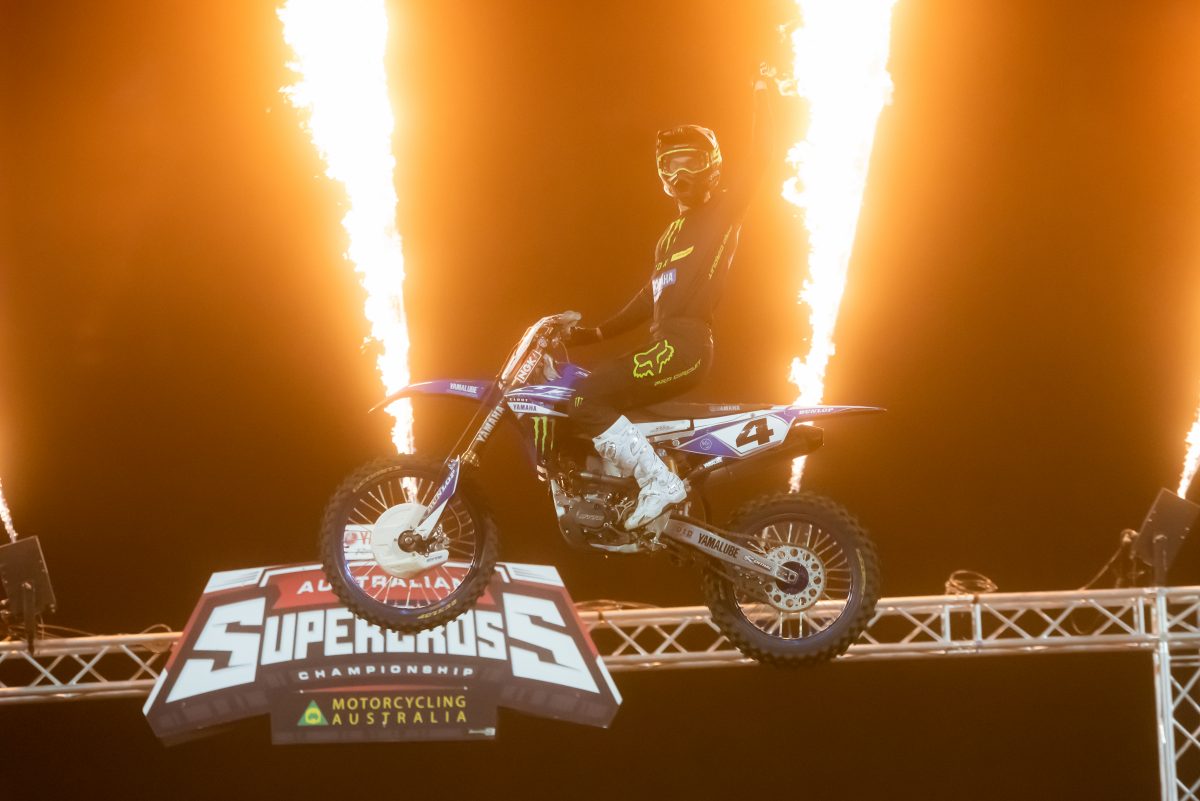 Clout dominates Wollongong in maiden victory as the championship heats up
Luke Clout dominates inside WIN Stadium to claim his maiden overall SX1 victory at Round 3 of the Australian Supercross Championships.
It was an almost perfect night for the CDR Yamaha Monster Energy rider, who topped afternoon qualifying and then went on to claim his first Superpole of the season in front of a home crowd. The #4 finishing the night with a 2-1-1 scorecard in the three main event finals and edging closer to the number one spot in the Championship fight, now just 3 points shy of Justing Brayton.
"It's about time!" commented Clout.
"They're the only words I can think of at the moment, to get my first win in front of my hometown and family, it's just surreal!
"As well, beating JB (Justin Brayton), Reardon and Josh Hill, they are some really good guys, so I'm pumped" concluded Clout.
It was a 1-2 finish for the CDR Yamaha Monster Energy outfit with teammate Dan Reardon finishing in second place overall aboard his Yamaha YZ450F, holding off the American Brayton as he heads into the next round third in the point standings.
Penrite Honda Racing rider Justing Brayton took longer than normal to gel with the Wollongong circuit despite coming out and winning the first 8-lap main-event. Fellow American Josh Hill made a solid return to racing, coming out firing in the first SX1 heat and taking it out in commanding fashion and finishing the night off in fourth.
In the SX2 ranks, it was Penrite Honda Racing rider Chris Blose that was too strong in the whoops securing victory ahead of Raceline KTM's Joshua Osby and teammate Mitchell Oldenburg.
Blose's strong performance puts him into second in the standings just one point behind Osby and one point ahead of Serco Yamaha's Aaron Tanti. Oldenburg, just one point shy of Tanti means there are only four points separating the top four contenders in the SX2 class as we wrap up the halfway point in the season.
The series now crosses the Tasman for Round 4 inside Auckland's Mt Smart Stadium November 16. Tickets are selling fast via Ticketmaster NZ, so get in quick as the title fight between the Australian's, American's and now New Zealanders, heats up.
SX1 Round Results (Olympic Scoring from three Finals)
1. Luke CLOUT – 4 Pts
2. Daniel REARDON – 7 Pts
3. Justin BRAYTON – 9 Pts
4. Josh HILL – 13 Pts
5. Brett METCALFE – 15 Pts
6. Dylan LONG – 22 Pts
7. Cody DYCE – 25 Pts
8. Lawson BOPPING – 26 Pts
9. Todd WATERS – 29 Pts
10. Henry MILLER – 32 Pts
11. Richie EVANS – 37 Pts
12. Joel WHIGHTMAN – 38 Pts
13. Jayden RYKERS – 40 Pts
14. Jesse DOBSON – 41 Pts
15. Dylan WOOD – 41 Pts
16 J05 Jesse MADDEN – 42 Pts
17. Justin CARAFA – 44 Pts
18. Jamie HARVEY – 51 Pts
19. Gradie FEATHERSTONE – 54 Pts
20. Jackson RICHARDSON – 58 Pts
SX2 Round Results (Olympic Scoring from three Finals)
1. Chris BLOSE – 8 Pts
2. Joshua OSBY – 11 Pts
3. Mitchell OLDENBURG – 14 Pts
4. Aaron TANTI – 18 Pts
5. Dylan WILLS – 23 Pts
6. Jay WILSON – 24 Pts
7. Connor TIERNEY – 25 Pts
8. Bradley TAFT – 26 Pts
9. Regan DUFFY – 27 Pts
10. Kyle WEBSTER – 27 Pts
11. Tomas RAVENHORST – 29 Pts
12. Ricky LATIMER – 31 Pts
13. Rhys BUDD – 32 Pts
14. Geran STAPLETON – 36 Pts
15. Jaxson HADLOW – 41 Pts
16. Kaleb BARHAM – 46 Pts
17. Jayce COSFORD – 48 Pts
18. Morgan FOGARTY – 51 Pts
19. McKenzie O'BREE – 56 Pts
20. Caleb GOULLET – 57 Pts
SX1 Championship Standings After Round 3 of 5
1. Justin BRAYTON – 70 Pts
2. Luke CLOUT – 67 Pts
3. Daniel REARDON – 64 Pts
4. Brett METCALFE – 52 Pts
5. Dylan LONG – 42 Pts
6. Todd WATERS – 40 Pts
7. Richie EVANS – 39 Pts
8. Joel WHIGHTMAN – 34 Pts
9. Jayden RYKERS – 30 Pts
10. Jesse DOBSON – 28 Pts
11. Lawson BOPPING – 27 Pts
12. Cody DYCE – 24 Pts
13. Dylan WOOD – 20 Pts
14. Gradie FEATHERSTONE – 20 Pts
15. Josh HILL – 18 Pts
16. Caleb WARD – 17 Pts
17. Justin CARAFA – 13 Pts
18. Jackson RICHARDSON – 13 Pts
19. Henry MILLER – 11 Pts
20. Lochie LATIMER – 10 Pts
SX2 Championship Standings After Round 3 of 5
1. Joshua OSBY – 62 Pts
2. Chris BLOSE – 61 Pts
3. Aaron TANTI – 60 Pts
4. Mitchell OLDENBURG – 58 Pts
5. Jay WILSON – 49 Pts
6. Bradley TAFT – 40 Pts
7. Dylan WILLS – 38 Pts
8. Connor TIERNEY – 28 Pts
9. Regan DUFFY – 27 Pts
10. Ricky LATIMER – 25 Pts
11. Jacob HAYES – 25 Pts
12. Tomas RAVENHORST – 23 Pts
13. Kyle WEBSTER – 22 Pts
14. Jayce COSFORD – 20 Pts
15. Rhys BUDD – 19 Pts
16. Kaleb BARHAM – 19 Pts
17. Geran STAPLETON – 16 Pts
18. Wilson TODD – 14 Pts
19. Morgan FOGARTY – 12 Pts
20. Jack KUKAS – 5 Pts