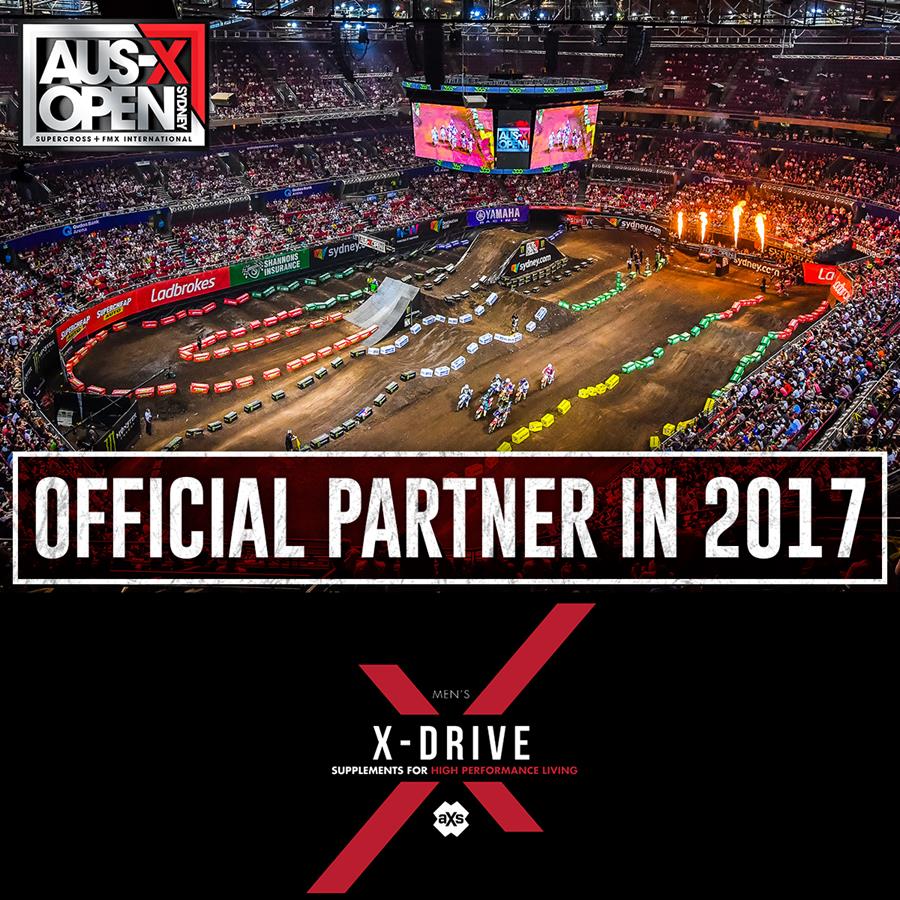 Aus-X Open Announce X-Drive as Latest Offical Partner for 2017 Event
AUS-X Open Sydney is thrilled to welcome on-board high-performance supplement brand X-Drive, as the latest official partner for the 2017 event.
X-Drive is the first performance nutritional supplement to ever partner with the AUS-X Open event, held at Qudos Bank Arena on November 11 and 12.
The enigmatic and aspirational brand is a rousing addition to the 2017 event, with X-Drive being the ultimate super supplement designed to achieve peak levels of performance, just for men.
AUS-X Open Director and Co-Founder Ryan Sanderson is pumped to have such a prestigious line up of partners on board for the event thus far, and believes the addition of X-Drive is the perfect fit for the AUS-X Open event.
"The athletes who compete within the AUS-X Open both in Supercross and Freestyle Motocross, are legitimately and without question, some of the fittest and most professional sporting athletes in the world. The intensity of Supercross racing and Freestyle Motocross is unmatched in sport and X-Drive is genuinely the best high-performance supplement on the market, so a perfect fit for the AUS-X Open," claimed Sanderson.
 The combination of action sports and high energy entertainment is hugely popular for the core audience of X-Drive, and as a supporter of the AUS-X Open, X-Drive are excited to promote their brand in front of such likeminded individuals.
X-Drive Chief Executive Officer – Phil Cvetovac is absolutely delighted and can't wait until November for the AUS-X Open.
"X-Drive is excited to announce its partnership with the AUS-X Open for 2017. As Australia's largest action sports and entertainment event, it's a testament for the best action sports athletes in this country to be able to showcase skills and talents against the best from all over the world, within the Qudos Bank Arena in Sydney," Cvetovac said.
Featuring 2 x World Champion – Chad Reed, current World Number 4 – Jason Anderson, current World Number 10 – Josh Grant, 4 x World Champion and the greatest of all time – Ricky Carmichael and many more of the world's best on two wheels; combined with concert like entertainment values, in one of Australia's iconic indoor venues, the AUS-X Open is not to be missed this November 11 and 12.
Further announcements regarding athlete line up and event sponsors to be released in the coming weeks.
Tickets are selling fast and available to the public now via Ticketek.com.