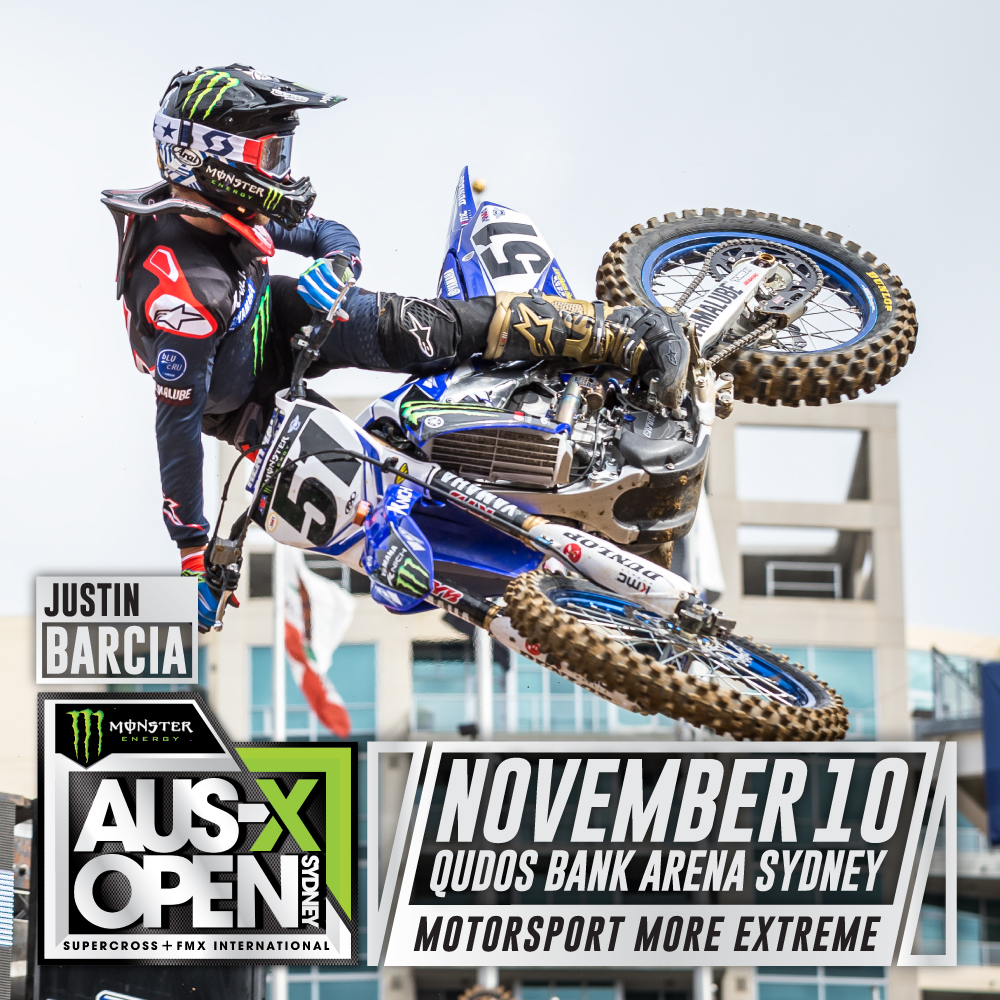 Justin Barcia confirmed to bang bars at 2018 Monster Energy AUS-X Open Sydney, Round 5 of the Australian Supercross Championship
Supercross sensation Justin Barcia is the first international rider locked in to compete at this year's Monster Energy AUS-X Open Sydney at Qudos Bank Arena on November 10.
The Monster Energy Yamaha Factory Racing Team rider will be bringing his aggressive style, banging bars against some of the world's best for the first time in Australia in an action-packed night of championship racing, featuring an all-new triple crown format.
Touted as a future world champion, Barcia's 2018 World Supercross season kicked off with a bang, including three podiums and two top-five finishes before injury forced him out for the majority of this year's championship.
Now back to 100% health and fitness, the two-time Monster Energy World Supercross 450SX race winner is stoked to be heading down under to lay it all on the line against the world's greatest riders.
"I've been following the Monster Energy AUS-X Open Sydney since the first year back in 2015 and I'm pumped to head to Australia for the first time in my career. The AUS-X Open demands perfection against the best riders on the planet and I have my sights set on one thing only, winning in Sydney!" Barcia said.
"I've heard the event has some of the most insane fans and inside the stadium is deafening, and that's the sort of racing environment I thrive off."
Barcia plans to build on a successful international Supercross career which includes several marquee race wins in Europe, and the 26-year-old from New York hopes to add Australia to his ongoing list of racing achievements.
"It'd be insane to go up against CR (Chad Reed) at AUS-X, be faster than him and to hopefully beat him on home soil. I know the Australian talent that always comes over to the US are super quick so I'm pumped to see how they compete in their own backyard."
"I believe my aggressive racing style is best suited to the tight indoor track, and I think come November I'll be ready to battle to the top step of the podium at this year's AUS-X Open," Barcia said.
Event Co-Founder and Director Adam Bailey says Barcia's announcement as the first international star to be named in this year's event is a huge coup for Aussie fans.
"We're really pumped to have someone of Justin's calibre competing at this year's Monster Energy AUS-X Open Sydney. It's always exciting when the world's best come down under to compete especially for the first time, at our event."
"Justin is undoubtedly one of the greatest talents on two wheels and he brings with him a style and charisma that is sure to wow fans in Sydney on November 10.
"This announcement is the first of many world-class riders we have in store for this year's event and we can't wait to announce what we reckon will be the greatest lineup the AUS-X Open has seen to date!" Bailey said.
The Monster Energy AUS-X Open Sydney will incorporate the fifth and final round of the Australian Supercross Championship and is one of the largest Supercross, FMX and action sports events in the world – with more extreme racing than ever before in 2018.
Featuring the world's best on two wheels, combined with concert-like entertainment values, all within the comfort of one of Australia's most iconic indoor venues.
Further announcements regarding athlete line up and much more are expected to follow in the coming days.
With the Saturday night selling out within days for the past three years, fans are urged to sign up to the Monster Energy AUS-X Open Sydney pre-sale registration to avoid disappointment.
Signing up for the pre-sale ensures first preference of ALL available seating. Pre-sale commences 12pmThursday 31st May. 
Click the link below to sign-up:
https://ausxopen.com/aus-x-open-2018-pre-sale-ticket-registration/
Further information for the Australian Supercross Championship will be released in the coming weeks via www.australiansupercross.com.au and on the Motorcycling Australia website www.ma.org.au
Justin Barcia to bang bars at the 2018 Monster Energy AUS-X Open Sydney