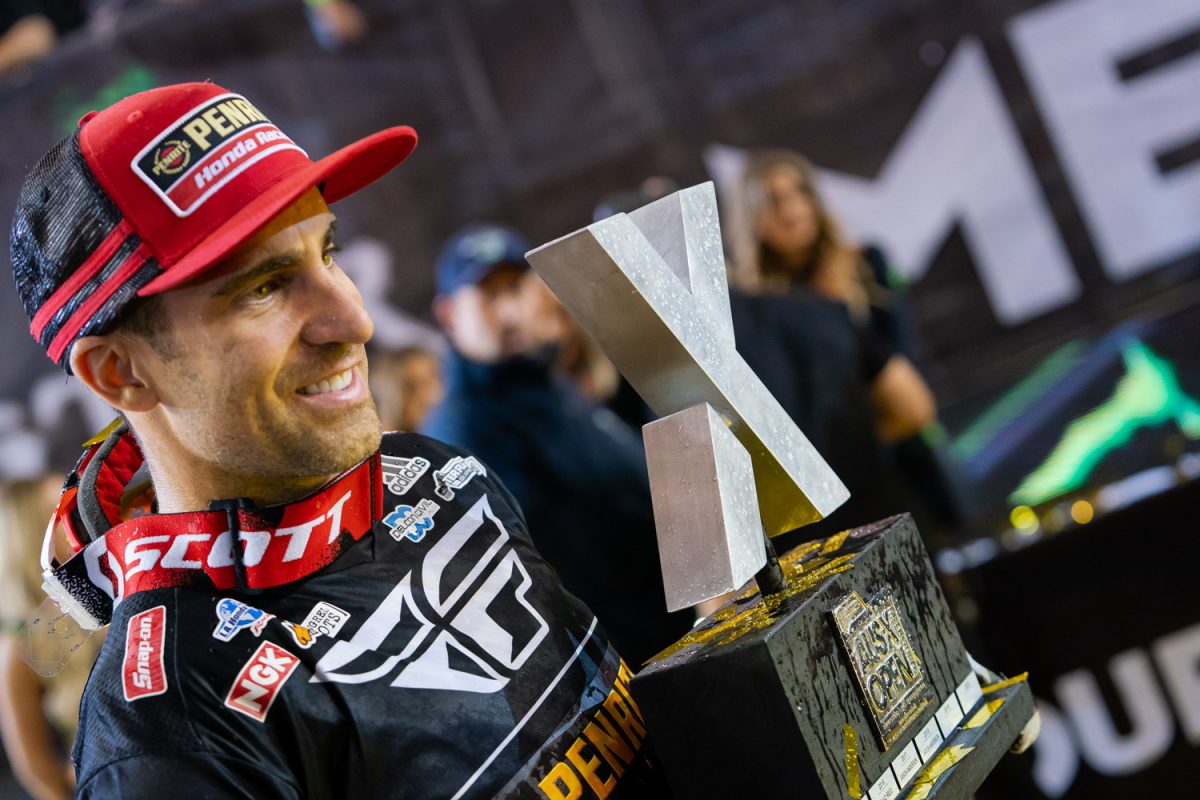 Penrite Honda Takes Double Victories
BRAYTON WINS FOURTH STRAIGHT SX1 CHAMPIONSHIP, BLOSE WINS HIS FIRST – PENRITE HONDA TAKE DOUBLE VICTORIES!
Justin Brayton wins his fourth straight SX1 Championship with Penrite Honda Racing, while team mate Chris Blose takes the SX2 Championship and Oceania Championship wins!
It was an emotional final round of the Australian Supercross Season for the Penrite Honda Racing team on Saturday night at Marvel Stadium in Melbourne. Coming into the final round just one point behind the series leader, Justin Brayton knew mistake-free racing was required and that's exactly what he executed out on the track.
Brayton rode flawlessly in the three back-to-back finals, posting the fastest race times on his way to his fourth consecutive SX1 Australian Championship and finishing second in the S-X Open FIM Oceania Championship.
"This is a triumphant and special victory for everyone involved. Six weeks ago I didn't know if I was going to be able to ride. I had a small crash following round two, but it caused a large amount of damage. I ended up breaking four ribs and the resulting pain interrupted my program." Brayton explained.
Brayton's training was halted and he was only able to practice once before rounds three and four. For a moment he considered a return home to the States, but his hunger and dedication to win kept him in the fight.
"I knew it was going to be really tough but I had to just get out there to rounds three and four and score as many points as possible so that I would be in the championship hunt going into the final round." Brayton said.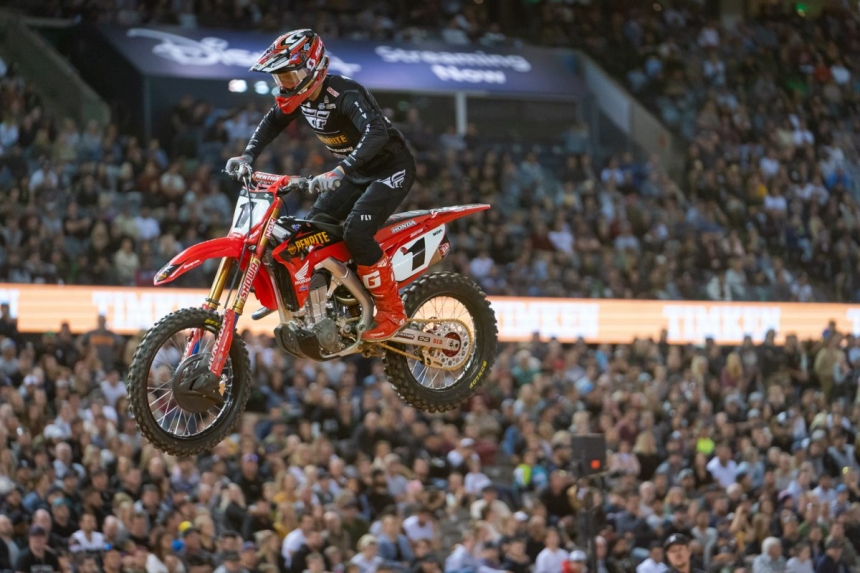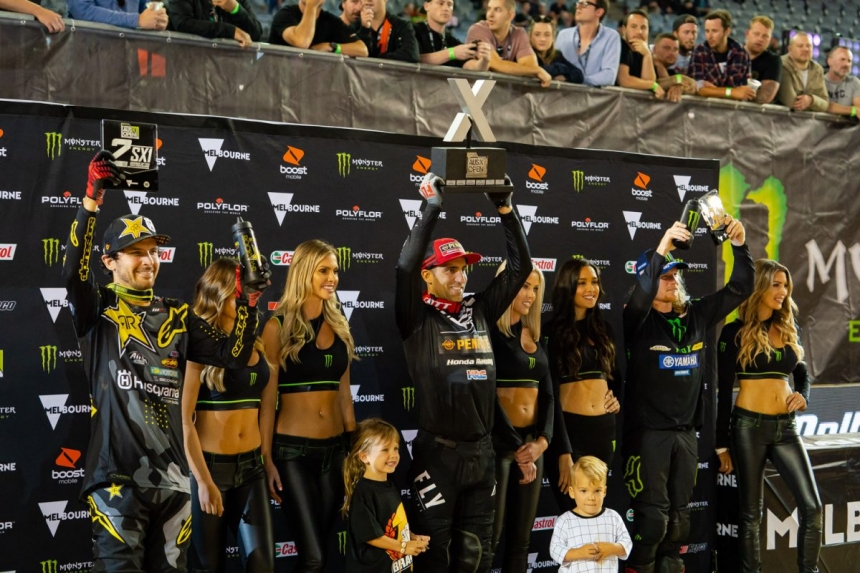 Photo Credit: Michael Antonovich/Swapmoto
Brayton maintained his focus and showed true grit and determination, trailing Luke Clout by one point going into the final round. His perseverance payed off, rewarding the team and himself with their fourth straight Championship.
"I have no words! All I can say thank you to everyone who made it possible – to Honda Australia, American Honda and Penrite. Everyone involved who go above and beyond for my family and I am thankful for the continued support. Also to the Australian fans, thank you again for welcoming me into your country. There is some bright talent coming through and if I return next year, I know it will be an even stronger field." Brayton finished.
Brett Metcalfe finished fourth in the SX1 Australian Championship and third in the SX1 Oceania Championship. Despite particularly strong results in the final two rounds, the overall results don't sit well with the South Australian and he promises to return stronger next year.
"I should of, would of, could of; it's been one of those years. We were in positions to be on the podium in rounds one and two and I crashed. The podium in New Zealand was long overdue. We weren't miles off this year, but those precious tenths were hard for me to find. I know what I need to work on for next year. Taking third in the Oceania Championship was nice, we did make some improvements but I know I need to be better." Metcalfe said.
The SX2 final also came down to the final round, with riders Chris Blose and Mitchell Oldenburg trailing the Australian Championship leader by 4 and 13 points respectively.
"Osby had been riding well but four points was achievable. I knew my teammate would be respectable and Jett Lawrence raced mindful that Championships were on the line. I just had to race as hard as I could and I had to make the first two finals count. The last of three finals I rode conservatively as I knew where I had to finish," said Blose
Blose won two Championships on the night, the Australian SX2 Championship and the Oceania Championship, leaving the American beside himself.
"These are the biggest results in my career, purely because they are Championships. I have come close in America, but for whatever reasons I haven't taken out the overalls before. To win in front of my son and wife is priceless. I can't thank everyone enough," said Blose
Mitchell Oldenburg finished third in the Australian SX2 Championship and second in the Oceania Championship.
"I am pumped I finished with a win. We won two rounds, but the mistakes in the other rounds cost me. I learned a lot during this Championship and I am looking forward to putting it all into practice next year in America." Said Oldenburg.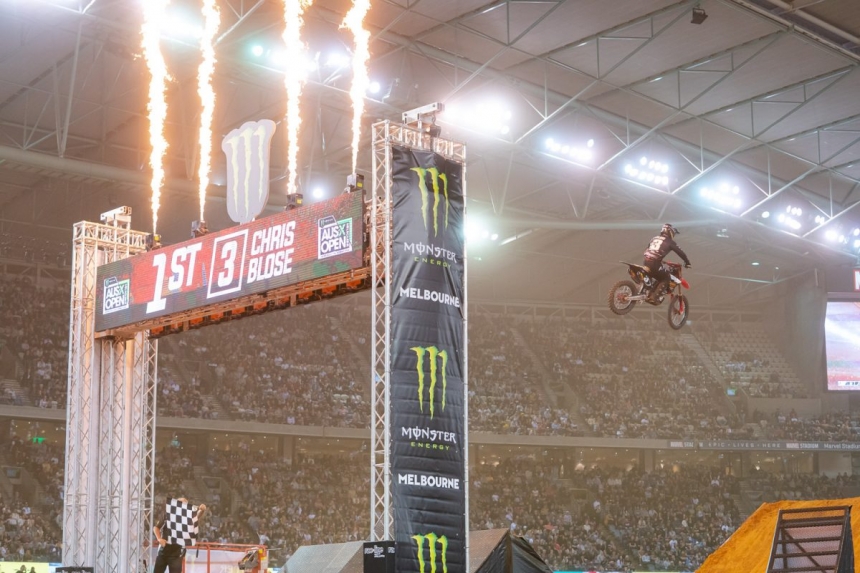 Photo Credit: Michael Antonovich/Swapmoto
Penrite Honda Racing director Yarrive Konsky was proud of his team's efforts, the double Championship win was something he fought hard for.
"Brayton was a beast! His heart, determination and mental strength was inspiring. When he rang me from the hospital following round two I thought we were in trouble. To bounce back and race so courageously showed his true spirit. Metty has more in the tank and we will see that next year. Blose and Oldenburg displayed true grit, against the odds they fought back. One of them won the championship and the other learned a lot more about racing for a championship. My team worked selflessly as they came together to pursue common goals." Konsky said.
The team are now focused on testing and preparations for the 2020 season.
"We know that 2020 will be no different to any other year. The other teams will come back stronger, more determined and we need to bring our A-game. We will be testing this week as we best prepare for 2020." Konsky finished.